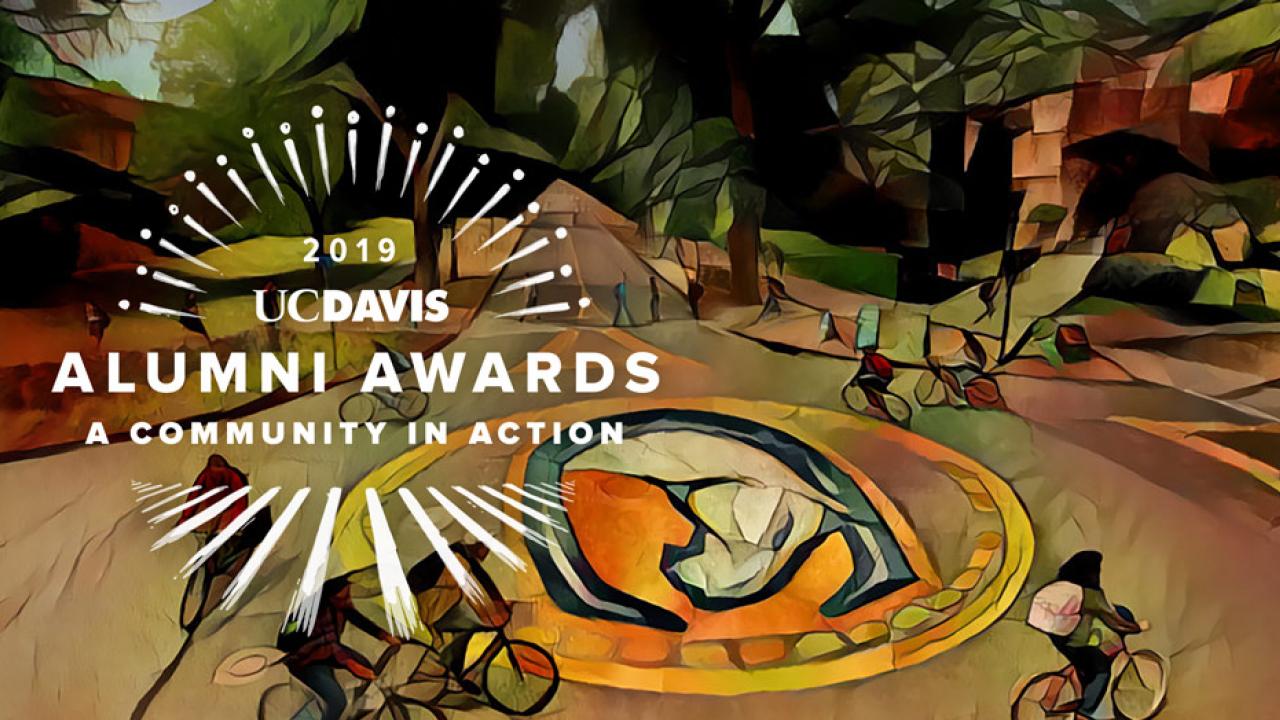 Location
Betty Irene Moore Hall at the UC Davis Health Campus
The Cal Aggie Alumni Association each year recognizes alumni and friends of UC Davis that have brought distinction to their professions and through philanthropic efforts. At this black-tie event, we present seven awards celebrating alumni and one friend of the university for their outstanding achievements.
Congratulations to our 2019 Award Recipients. Read more about our award recipients.
Francisco Rodriguez '85, M.S. '97
Jerry W. Fielder Award
Heather M. Young '81
Distinguished Achievement Award
Mohini Jain
Distinguished Friend of the University
James Creighton, M.D. '87
Emil M. Mrak International Award
Richard Addante, Ph.D. '11
Young Alumnus Award
Heidi Jannenga '92
Outstanding Alumna Award
Darryl '83 and Lois '88 Goss
Aggie Service Award
Hotel - Interested in securing a hotel room overnight for the event? A room block has been reserved at the Courtyard Sacramento Midtown Marriott at the UC Davis Health Campus located at 4422 Y Street, Sacramento, CA 95817. To secure your rooms, please contact Sales Coordinator, Nicole Mann at (916) 455-6800 ext 6128 and note the rate on Thursday 1/31 is $189/night and on Friday 2/1 is $129. The last day to secure your rooms will be January 3, 2019.
Call for Nominations
Nominations are closed for 2019 and will open for our 2020 event in June 2019.
This annual awards event recognizes alumni and friends of the university in seven different categories including, The Jerry W. Fielder Award, Outstanding Alumnus, Distinguished Achievement, Young Alumnus, Emil M. Mrak International Award, Aggie Service and Distinguished Friend of the University.
The program is open to all alumni and friends who have provided extraordinary service to UC Davis, their professions and communities.
Sponsorship Opportunities
Consider sponsoring this event and take advantage of some unique recognition opportunities. Your generous support helps us continue to recognize our distinguished alumni and friends at our annual signature event. Download a sponsorship packet today. 
Cost
$175 - CAAA/Parent Association/Retiree and Emeriti Association
$250 Non-member
All sales are final. 
If you have any questions about this event, please contact Jamie Dixon.
Tags