From KDVS to Oscar: A Parallel Education
Quick Summary
Filmmaker Joseph Patel '94 won both an Oscar and a Grammy this spring for the documentary Summer of Soul. The UC Davis alumnus credits his success to campus radio station KDVS.
Joseph Patel's walk from his seat onto the bright stage during the 94th Academy Awards ceremony took just moments. But his journey to Oscar fame, Patel '94 says, began years earlier and miles away — in the windowless basement of UC Davis' Freeborn Hall.
Already a music lover when he arrived as a first-year student from his hometown of Fremont, California, Patel (B.A., economics, '94) quickly found his way to KDVS, the campus's freeform radio station.
There he met his tribe — students who would gain hip-hop renown as DJ Shadow, Gift of Gab, Chief Xcel and Lyrics Born, as well as music/culture writer Jeff Chang. As DJ Jazzbo, Patel embarked on an immersive education in music and social activism.
"I'd spend four nights a week at KDVS listening to records," Patel said in a recent interview by video conference from his home in Brooklyn, New York. "I would take a stack of records into the listening room and just listen to records for six, seven hours a night.
That's how I learned so much about music in that time. Music then became my gateway to learn about other things. It's how I learned about photography and design and literature and social issues and economic issues. I couldn't get enough of it. And really that is the parallel education I had while I was a student at UC Davis." — Joseph Patel
Those dual tracks would come together in his career in TV, film, digital and print journalism — particularly in the production of Summer of Soul (…Or, When the Revolution Could Not Be Televised), a documentary about the 1969 Harlem Cultural Festival.
A look at why the festival happened
Held on six Sundays that summer, the festival featured performances by Stevie Wonder, Nina Simone, B.B. King, Sly and the Family Stone, the 5th Dimension, Gladys Knight & the Pips, Mahalia Jackson and the Staple Singers, among many others. More than 300,000 people attended the celebration of Black music and culture at Mount Morris Park (now called Marcus Garvey Park) in the New York City neighborhood.
Summer of Soul, directed by musician Ahmir "Questlove" Thompson, weaves together long-forgotten footage of the performances and the crowds, interviews with musicians and attendees, and archival film of historical events that defined the time — key among them the assassination a year earlier of the Rev. Martin Luther King Jr., the civil rights and Black Power movements, and the July 1969 moon landing.
We don't remember the event the same way we do Woodstock. It was important for us, if we were going to tell this story, to show American history from a perspective of Black Americans and show that Black history was American history." — Joseph Patel
"The first questions that we asked," Patel said, "were: How did this festival happen and why did it happen? And when you look at that, it ties directly into the social issues happening at the time."
Making film and music history
The resulting film, in addition to winning an Academy Award for Best Documentary (Feature), earned a Grammy for Best Music Film, and best documentary awards at the 2021 Sundance Film Festival (Grand Jury Prize and Audience Award), the Critics' Choice Documentary Awards and the British Academy Film Awards.
At the Oscars, the filmmakers' moment in the limelight was overshadowed by the "slap heard around the world." After being struck by actor Will Smith for a joke told at the expense of Smith's wife, comedian Chris Rock announced the Summer of Soul's director and three producers as "Questlove and four white guys."
Patel, the son of immigrants from India, declined to comment on the incident. "The more we talk about it, the more the focus is on that and less on the movie."

He celebrates that night as a milestone for South Asian filmmakers. In addition to his Academy Award, producer Riz Ahmed and director Aneil Karia won for the live-action short film The Long Goodbye. "We were nine, 10 and 11 in the history of the Oscars, which is crazy," Patel said.
Growing up, Patel said he had few South Asian role models in entertainment. "Now I realize I'm that person for a younger generation, and there are a ton of us now. I think it's really cool, because these are not the professions that our immigrant parents want us to pursue."
Luck and good design
Patel said his involvement in making Summer of Soul was due to a combination of luck and preparation. "I was in the right place at the right time," he said, adding: "I've been talking to a lot of younger film folks lately. One of the things I tell them is, I'm a big believer that good luck is a product of good design — you have to put yourself in a place to receive luck."
His right-place, right-time moment occurred three years before Summer of Soul's July 2021 release. Patel had completed some development work for entertainment company RadicalMedia — "taking an idea and developing the concept for something they wanted to work on."
Patel stopped by the office of company partner Dave Sirulnick, who asked if he knew Thompson. The drummer for the hip-hop band The Roots had been hired to make his directorial debut with Summer of Soul. "And I'm like, 'Yeah, we've been friends for 25 years.'"
Patel was brought on as creative producer. "My specific role was working with Ahmir and figuring out day-to-day how we were going to make this movie," Patel said. "It was the hardest thing I've ever worked on, but also incredibly joyful and a lot of fun."
He joined co-producers David Dinerstein and Robert Fyvolent, who had acquired 40 hours of footage of the 1969 festival from the late videographer Hal Tulchin. Some of Tulchin's footage had been featured in local and national programs that summer, but most of it lingered in obscurity for decades.
Patel, who was born three years after the festival occurred, said he had never heard of the event before starting to make the movie.
"It was out of my comfort zone in terms of what I know musically, which I enjoyed. I think if it were in my comfort zone, I would think that I know everything already. ... It stokes your curiosity and it stokes you to investigate and report and look for things that you don't know. I think it was the same for Ahmir, and I think the film is better for it."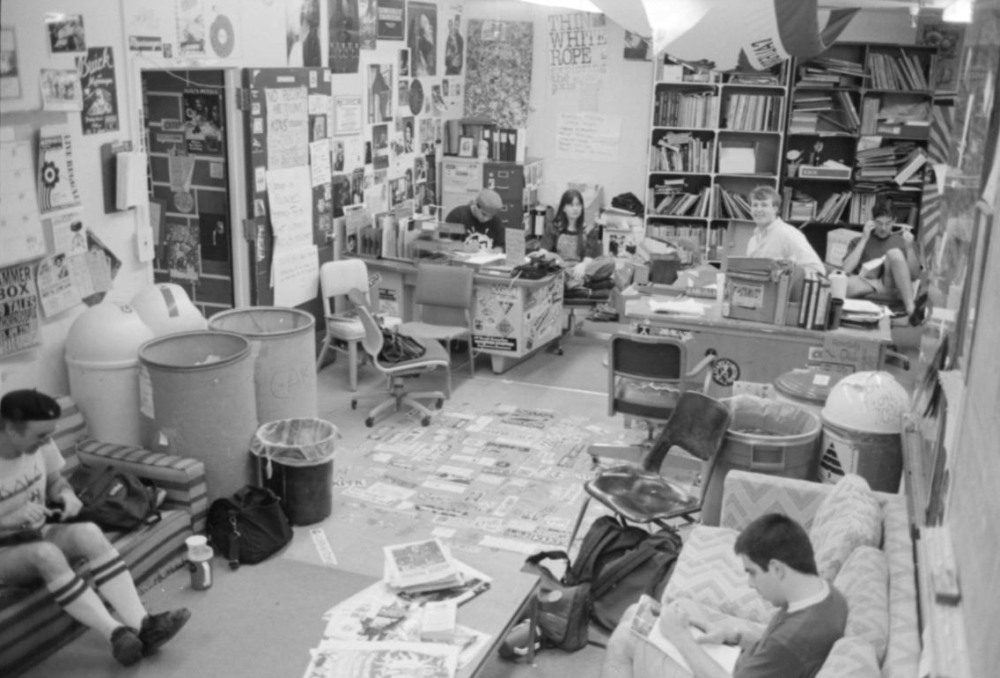 A start in music journalism
Storytelling has propelled Patel's career since his days as a UC Davis undergraduate. As a first-year student, he began writing for a friend's zine — interviewing members of bands like the Red Hot Chili Peppers and A Tribe Called Quest — "I loved it!"
Patel came to UC Davis intending to study science; he did well in the prerequisite calculus course, but "I hated chemistry." He switched his major his second year to economics and came close to double majoring in English. To the chagrin of his parents — who encouraged him to pursue a career as an engineer, lawyer or doctor — "everything just seemed to click" around writing, he said.
In Lower Freeborn, he found a mentor in "DJ Zen" Chang, a UC Berkeley alumnus who had a KDVS show in 1989-90 while taking graduate courses at Sacramento State University and working at the state Capitol. "Jeff was this incredible figure in my life," Patel said. "He was a deejay, but also an activist who led [anti-apartheid and antiracist] student protests on the Berkeley campus. He was Asian American. He mentored me to understand not only music, but also politics and social activism — and also as a writer."
Chang, now an award-winning author of books and articles on hip-hop, culture and race, inspired Patel to start writing for alternative newspapers SF Weekly and the San Francisco Bay Guardian as well as underground hip-hop magazines that sprouted up in the early 1990s.
Chang recalled the young UC Davis student as a "music nerd" who was deeply into hip-hop.
"When I had my night show, he often called in with good requests and so I invited him to come down to the studio," Chang said. "That first time, we talked for hours about music — what we liked and, just as important, what we didn't like — and after we had talked for a while, I realized I had passed some sort of test with him! After that, he'd come down and hang out every week during and after my show."
Other students who gravitated around Chang's show:
Sample pioneer Josh "DJ Shadow" Davis (B.A., rhetoric and communication, '95).
Tom Shimura, who performed first as Asia Born and became Lyrics Born.
Rapper Xavier "Chief Xcel" Mosley (B.A., rhetoric and communication, '94), and the late DJ Timothy "Gift of Gab" Parker, who formed the duo Blackalicious.
Lateef Daumont, known by the stage name Lateef the Truthspeaker.
Graffiti artist Stan "Eighth Wonder" Green (B.A., art studio, '95).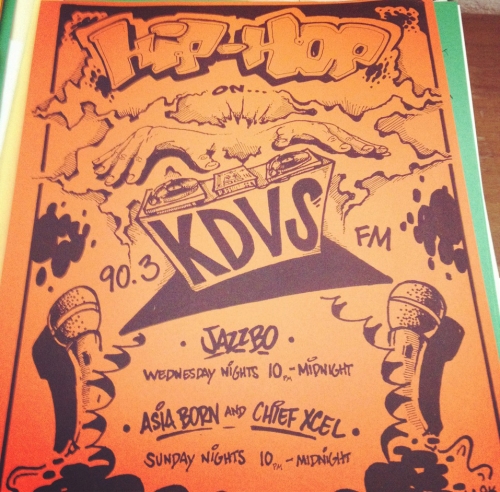 Chang, Patel, Davis, Shimura, Mosley and Parker formed independent record label SoleSides in 1992, with Daumont joining a year later. SoleSides later became Quannum Projects.
"The thing about KDVS — that was really central to my life and ultimately my career — is that it was a home for a lot of people who feel like they don't fit in elsewhere. There was this band-of-misfits feeling to it," Patel said.
"College radio is traditionally an outlet where you can hear music that doesn't get played on mainstream radio. It's an outlet where you can take chances and take risks and play the 30-minute free-jazz record if you want to. And that's part of the beauty of a freeform radio station."
His own DJ name "Jazzbo" reflects his love of jazz and admiration for reggae artist Prince Jazzbo.
His junior and senior year, Patel served as KDVS' music director.
Joseph really expanded the hip-hop shows at the station and made KDVS one of the most respected stations in the Valley and the national hip-hop scene."  — Jeff Chang
From MTV to movies
Patel continued to write for magazines after graduating from UC Davis, but after nearly a decade grew tired of the freelance grind. In 2003, he took a writing job at MTV. After six months there, he began producing shows, among them the My Block hip-hop documentary series.
From 2009 to 2018, Patel worked overseeing content at Vice Media, The Fader and Vevo, the world's largest music video platform, before leaving to return to TV and film production.
While other Solesides members tasted success in their 20s, Chang noted that Patel has followed a longer road to fame — all the while committed to music and art that celebrates the underdog. "I'm so happy now that the world finally gets to appreciate and celebrate his genius!" Chang said.
Up next
Patel is working on two new projects — joining forces with Thompson again on a Sly and the Family Stone documentary, and with journalist/author Vicky Tobak on a film based on her book and exhibition Contact High: A Visual History of Hip Hop.
Other projects are on the horizon. "The thing about winning an Oscar is people want to work with you," Patel said. "It's a great feeling."
— Kathleen Holder, content strategist in the UC Davis College of Letters and Science
Primary Category
Tags