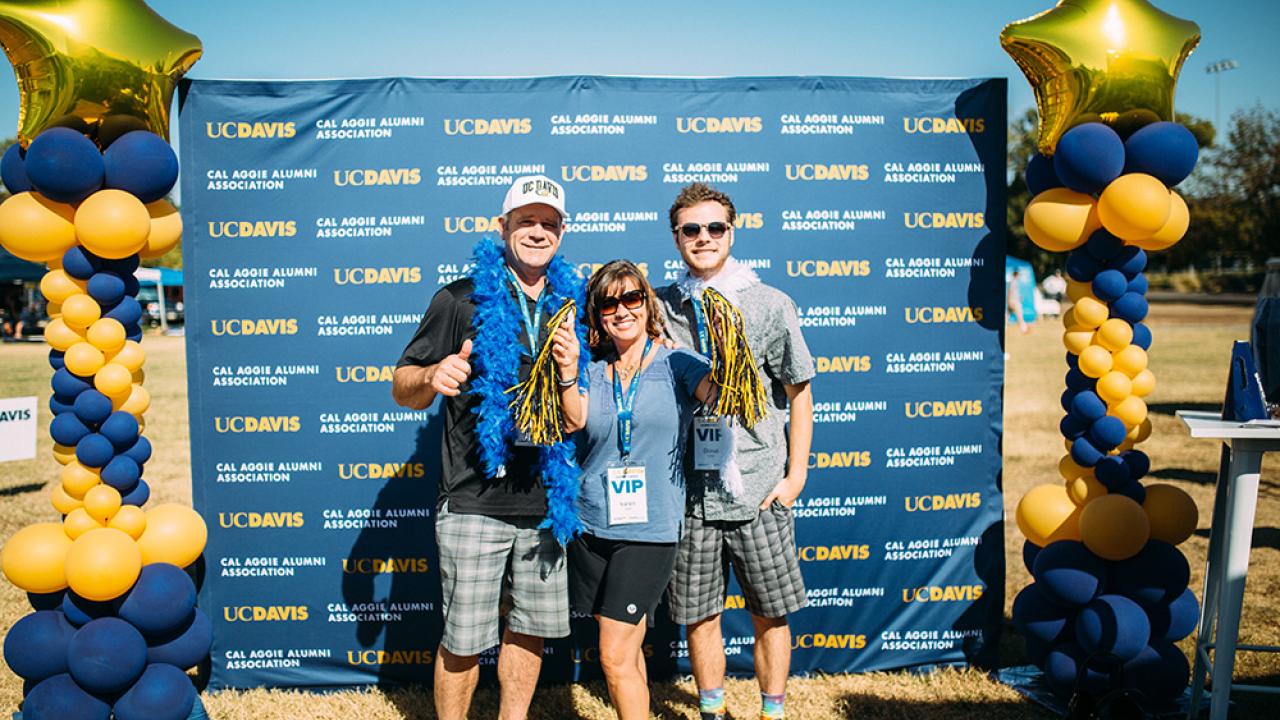 Location
UC Davis - Activities and Recreation Center (ARC) Ballroom

Please note pre-registration for lectures and lunch will close at noon on Thursday, October 11. After this time you are welcome to sign up on-site, space permitting.
Whether you're a parent who'd like an interactive glimpse of your student's college experience or an an alumnus interested in rediscovering UC Davis join us for Homecoming and Parent and Family Day for a fun and exciting day to reconnect with campus.
Our Saturday morning program includes engaging faculty speakers who will speak on a broad range of topics that highlight why UC Davis is a top tier research institution. Immediately following our program, enjoy lunch with your student then parents and students (over 21) can enjoy UC Davis Beerfest then the football game where the Aggies will battle Idaho State. Parents can enter promo code AGGIEFAMILY for discounted football tickets as well as access to Beerfest tickets (*note, a ticket to Beerfest automatically includes a ticket to the game).
Parent and Family Day
Saturday, October 13
9 a.m. - 12 p.m. Lectures (ARC Ballroom)
9 a.m. Andrew Perroy, COO at Hopsy
10 a.m. Mark Servis, M.D., Vice Dean for Medical Education, UC Davis Health -  "50 Years of Impact"
11 a.m. Student Success Panel with panelists:

Jeff Jarvis '81, DDS (alumni and parent)
Samantha Teshima '19, Student Alumni Association President
Annalisa Teixeira, Ph.D., Office of Educational Opportunity and Enrichment Services
Carolyn Thomas, Ph.D., Vice Provost and Dean of Undergraduate Education
Catrina Wagner, Associate Director, New Student Academic Services
12 - 1 p.m. Lunch (ARC Ballroom) or join our UC Davis Admissions Team in a Focus Group (ARC Meeting Room #1 - must register in advance, free lunch provided, space is limited)
1 - 3:30 p.m. Beerfest (Aggie Stadium) or take one of our bike tours hosted by the UC Davis Bike Barn from 12 - 1 p.m. or 1 - 2 p.m. (Bike Barn)
4 p.m. Football Kickoff (Aggie Stadium)
We appreciate you registering to attend our lecture and lunch. A nominal fee will be charged for this to confirm attendance and lunch counts.  As part of registration you may choose to register and enjoy a casual buffet lunch or you may also enjoy lunch with your student in the Segundo area dining commons, advance registration for this option is not required. Tickets for Brewfest and the football game can be purchased at our UC Davis Ticket Office be sure to enter promo code AGGIEFAMILY to get your discounted tickets. Please note your student does receive a free ticket to the football game. If you'd like to sit with your student in a seat and not the student area you will need to purchase a ticket for you and your student. Additionally, all tickets to Brewfest include a game ticket.
Other events happening this day include:
Davis Farmers Market  - 8 a.m. - 1 p.m.
Visit a Campus Museum - All Day
Mondavi Center Performances - various events on Friday, Saturday and Sunday
Women's Volleyball - 1 p.m.
Robert Mondavi Institute for Wine and Food Science Presents TASTE! - 5 - 7 p.m.
Download a list of these and other events. Have a question? Review our FAQ sheet or email us.
Thank you to our sponsors:
Tags