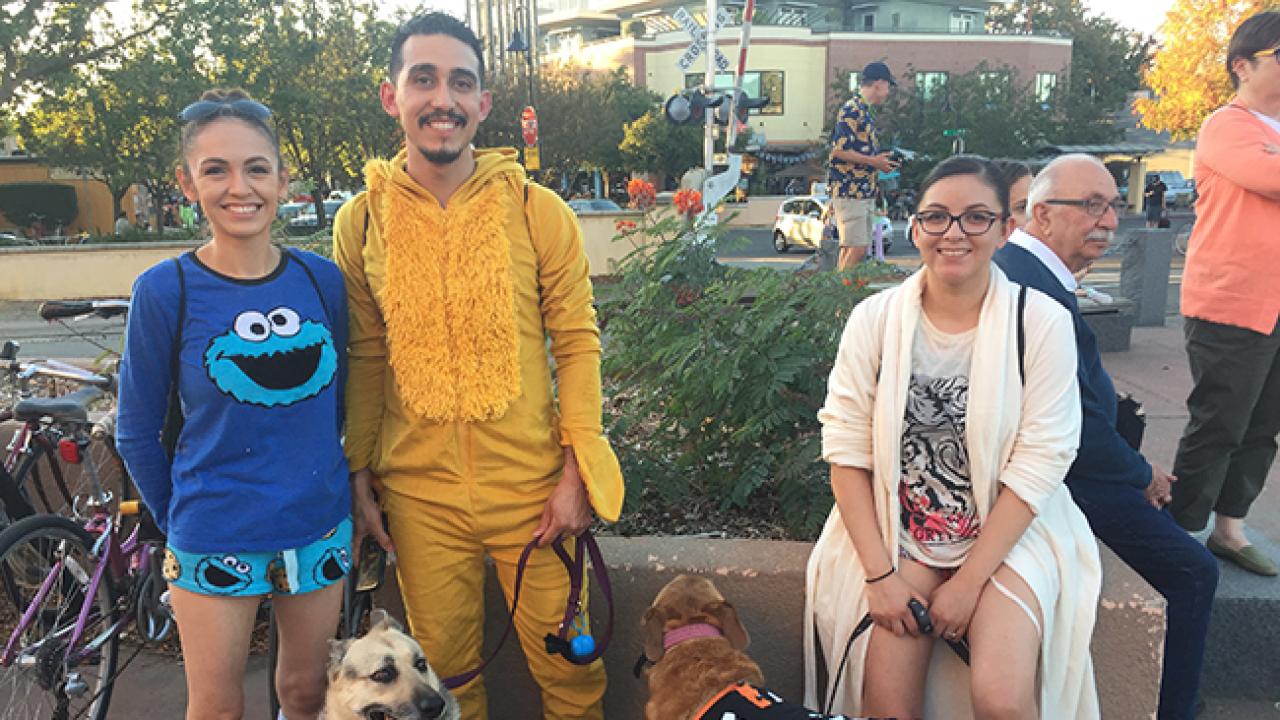 Location
UC Davis Vanderhoef Quad to E Street Plaza Downtown Davis
106th Pajamarino Homecoming Pep Rally
Friday, October 12  | UC Davis Vanderhoef Quad --> Downtown Davis
In 1912, pajama-clad students first sneaked out of their resident halls to greet returning alumni at the train station the night before homecoming. Alumni, students and the Davis community are invited to join the Student Alumni Association as they continue the tradition at our annual Pajamarino celebration. This year we are excited to be partnering with the Davis Chamber of Commerce on their Discover Davis celebration.  See a video of our 100th Pajamarino celebration.
Friday, Oct. 12
4 p.m. - Gather at Vanderhoef Quad for parade (map)
4:30 p.m. - Parade leaves for Downtown Davis, E Street Plaza
5 p.m. - Homecoming Pep Rally at E Street Plaza, Discover Davis event
Start your evening with delicious pizza and ice cream from Woodstock's Pizza, ice cream from The Good Scoop ice cream and cookies from Insomnia Cookies out on Vanderhoef Quad. The first 300 guests will also receive a special t-shirt! Then parade with the Aggie community to join up with the Discover Davis celebration. The family-friendly event will include performances by the Cal Aggie Marching Band-uh! and Cal Aggie Marching Band-Uh! Alumni Association. We encourage you to join in our tradition and dress in your favorite pajamas.
Pajamarino is free and you do not need to register to attend.
Football vs. Idaho State
Saturday, October 13 | Aggie Stadium




Rediscover UC Davis this fall during Homecoming Weekend which will also coincide with our annual Parent and Family Day. Join current students and fellow alumni in celebrating UC Davis October 12 and 13 with a stellar line up of activities. Our Saturday morning program includes engaging faculty speakers who will speak on a broad range of topics that highlight why UC Davis is a top tier research institution. Immediately following our program, parents and students (over 21) can enjoy UC Davis Brewfest then the football game where the Aggies will battle Idaho State. Alumni, parents and friends can enter promo code AGGIEFAMILY for discounted football tickets as well as access to Brewfest tickets. Note, all Brewfest tickets include a ticket to the football game.
For more information email us or call (530) 752-0286.
Tags