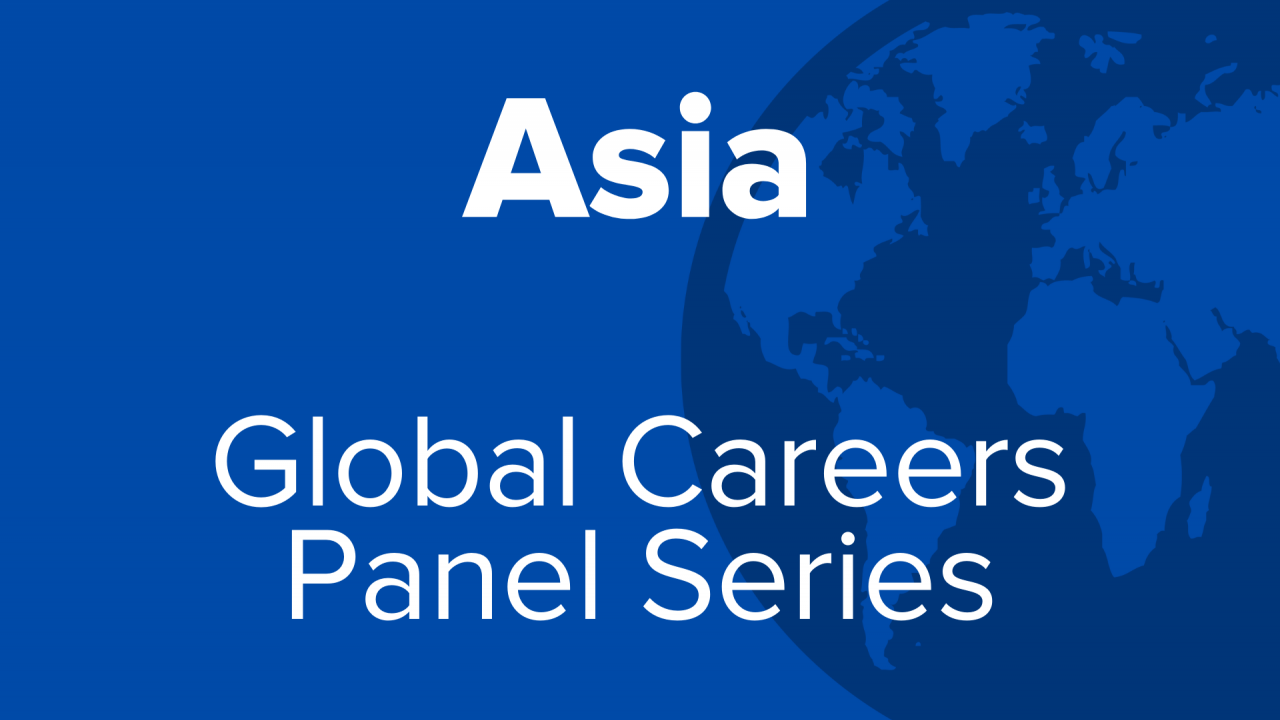 Join us for the Asia panel in our Global Careers Panel Series. At this panel, you will hear from leading professionals about their careers in Thailand, Hong Kong, and Singapore. If you are not able to join us for the live panel, be sure to register so you can have a recording of it sent directly to your inbox.
Date: Thursday, November 19
Time: 5pm PST
Panelists
John Sheedy (Seed Biotech Center Alumni)
 Thailand and Australia
My name is John Sheedy. I am Australian based in Thailand, working for Chia Tai Company Limited as General Manager of the Vegetable Seed R&D Laboratory Team. My job involves steering the activities of our R&D department by applying biotechnologies to develop new varieties of vegetable seed, such as watermelon, cucumber, pumpkin, tomato, hot pepper and others. The job also requires predicting future market trends in the South and Southeast Asia region through coordination with Product Development and Sales teams and establishing collaborations with the public research sector.
I graduated with a PhD and BSc (hons) in Biochemistry & Molecular Biology and Postgraduate Diploma in Teaching from The University of Melbourne. I am currently completing studies at the Plant Breeding Academy at UC Davis. I believe that life-long learning is essential to develop a growth mindset. I believe in the value of cross-cultural engagement for the enhancement of global progress and innovation, and that this can be achieved by listening carefully to others. My interests include travel, fishing, camping, playing the piano, gardening, and testing my new-found Thai cooking skills with my wife.
Mark Kobayashi ('94)
Hong Kong
Based in Hong Kong at Corporate Headquarters, Mark is responsible for global Marketing, Sales, Revenue Management, Brand Communications, E-Commerce, Digital Marketing and Guest Engagement. Mark is currently the Senior Vice President, Sales & Marketing for The Peninsula Hotels. He began his career with The Peninsula Hotels in 2006, when he joined The Peninsula Tokyo as Director of Public Relations and was promoted to Regional Director of Communications, Japan, in 2012. Three years later, he became Director of Marketing, Japan. In 2017, he relocated to Hong Kong and held the role of Vice President, Marketing, The Peninsula Hotels until 2018. 
Mark began his career as Special Assistant to the Chief of Staff at the Office of Pete Wilson, Governor of California. In 1998, he relocated to Tokyo and joined a Japanese public relations firm, thereafter moving to Hill+Knowlton Strategies. In 2003, Mark entered the hospitality industry as Director of Marketing Communications of the Grand Hyatt Tokyo, and later worked as Director of Marketing at Bals Corporation, Japan's leading interior furnishing company. Japanese-American-born, Mark earned a Bachelor of Arts in International Relations, World Politics and Economics from the University of California, Davis in 1994
Brad Levitt ('82)
Singapore
Brad Levitt is the CEO and Co-founder of Sentosa Capital which manages the Sentosa Asian Credit Fund.  Sentosa is a long/short credit hedge fund which was founded in 2011.  The fund has won numerous awards including Best Asia Singapore based Hedge Fund, Best Asian Fixed Income Fund and Best Asia ex-Japan Hedge Fund.
Previously Brad was the Global Head of Capital Markets for Standard Chartered Bank ("SCB"), based in Singapore. He was responsible for the bank's global capital markets business, including sales, trading, origination and structuring of bonds, loans and structured credit products. In this role he was responsible for 450 people in over 25 countries, primarily focusing on Asia, Africa and the Middle East. From 1998 -2006, Brad was the founder and Managing Director/Head of SCB's Fixed Income business responsible for managing and running all aspects of the business in North Asia, Southeast Asia, South Asia, Africa and the Middle East. 
Brad has an extensive background in finance and banking, including over 25 years in investment banking and capital markets. He received his BA in Economics from University of California, Davis and earned an MBA in Finance from the Anderson School (UCLA). Brad is a qualified Chartered Financial Analyst. Brad is also actively involved as a Trustee/ and Co Chair for Temple Garden Foundation (Cambodia/UK) and on the Boards of the National Volunteer and Philanthropy Centre (NVPC) and the Alzheimer's Disease Association (both Singapore).
Panelist and Moderator
Candice Yip ('03)
Hong Kong
Candice Yip is a Senior HR Business Partner at Point72, leading the Firm's Human Capital activities for the International business. She joined Point72 in 2011 from MF Global, where she was the HR Manager for the North Asia region. Previously, Ms. Yip worked at organizations including Oasis and Michael Page. She began her Human Resources career at Target Corporation in the United States. She received her BA in International Relations from UC Davis College of Letters and Science and her Master of International and Public Affairs from Hong Kong University.
Tags