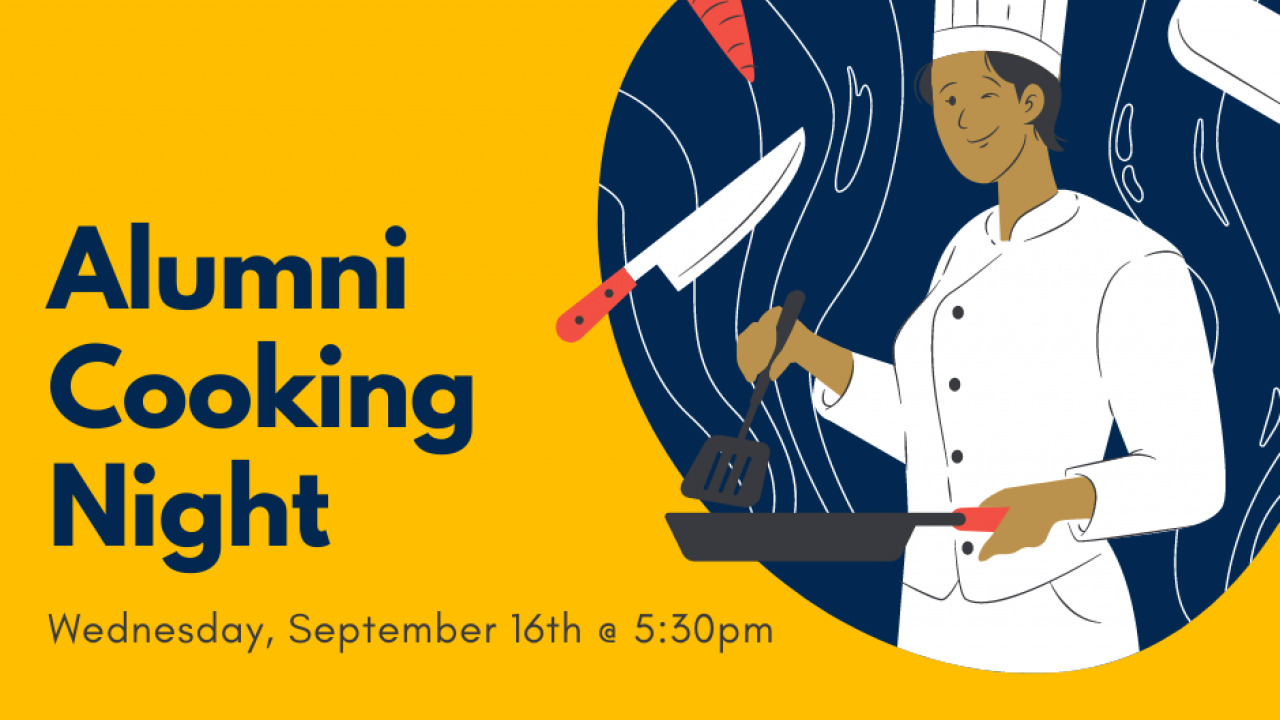 Location
Video link provided upon registration
This event has passed, but you can still participate. Please use the links below to make your own pizza at home!
---
Join us for a fun virtual night from your own kitchen. We will be joined by alum from the UC Davis Food Science and Technology Program to learn about the chemistry behind the cooking as we watch a live cooking demo and attempt to make our own meals from home. We will also share cooking tips throughout the night.
The shopping list for the cooking night is below. Access a downloadable version to print and bring to the grocery store here. Cooking instructions can be found here. 
Date: September 16th
Time: 5:30pm PT
Menu 
Main - Pizza: makes approximately 6-8 servings
Pre-made pizza dough, 1 lb.

Pizza Sauce (one 14-16 oz. jar) or Crushed Tomatoes (one 25-28 oz. jar) (whichever you prefer)

Olive Oil, 2 Tbsp.

Recommended Toppings (feel free to choose your own) 

Vegetarian:

 Fresh Basil Leaves, 0.66 oz. or 10 leaves and Shredded Mozzarella Cheese, one 6-8 oz. bag

Meat: 

Sliced Pepperoni, 4 oz. and Shredded Mozzarella Cheese, one 6-8 oz. bag 

 
Side - Salad
Spring Mix or your preferred greens, 1-0.5 oz. bag

Olive Oil OR Vegetable Oil, 3 Tbsp.

Balsamic Vinegar, 1 Tbsp.

Salt, 1/4 tsp.

Ground Pepper, 1/4 tsp
Dessert - Cookies

: makes approximately 24-30 cookies 
All-purpose Flour, 2.5 cups

Baking Soda, 3/4 tsp

Butter, 1.5 sticks or 3/4 cups

Chocolate Chips, 1.5 cups from 12 oz weight bag

Dark Brown Sugar, 3/4 cup

Eggs, 2

Granulated Sugar, 3/4 cups

Vanilla Extract, 1 tsp

Salt, 1 tsp

 
Equipment:
1 apron (optional, but recommended)

3 Baking Sheets

Aluminum Foil/Parchment Paper

enough

to line baking sheets

Cooking Spray 

2

Medium

-Mixing Bowls

(for cookies)

2 Spatulas

2 Spoons:

1 for Tomato Sauce and 1 for Cookie Dough (ice cream scoop is ok)

¼ measuring cup

½ measuring cup OR 1 measuring cup

1 tsp measuring spoon

¼ tsp measuring spoon

1 Brush (optional to spread oil on pizza)

1 Can Opener

1 Hand Mixer or Whisk

1 Pair of Kitchen Scissors 

1 Pair of Tongs

1 Small Mixing Bowl (for salad dressing)

1 Rolling pin or close alternative 

1 Pizza Cutter or Bread Knife
Tags