Yes, You Can Succeed in the Arts: Alumnus Teacher Shows Students How
Article Summary
Shawn Sullivan '91 teaches animation at Sheldon High School in Elk Grove.

His award-winning program has launched students into successful careers.

Sullivan's positive experience in UC Davis' art program motivates him to give back.
In art class he was known as the football jock. On the field he was known as the artist. Today, Shawn Sullivan '91 is known as the high school animation teacher, transforming the lives of young artists and fostering a philosophy of giving back.
Sullivan has built an advanced animation program at Sheldon High School in Elk Grove, where he has taught since 1998. Sullivan's program prepares students for careers in the arts, media and entertainment industry. Many of his students have launched into successful careers – such as world-renowned performance painter David Garibaldi, Pixar animator and story artist Austin Madison and Nickelodeon color supervisor Hallie Lal. 
"When I see my students have these dreams and reach their goals, I feel as proud as if they're my own children," Sullivan said. "But I'm even more proud when these students come back and give back to the community."
Sullivan's love and passion for working with youth came from UC Davis when he worked at Patrick's Daycare during his undergraduate years.
"The kids didn't have a jungle gym, they had Jungle Shawn," Sullivan said. "They just climbed all over me and I loved teaching and sharing my art with them."
In order to connect even more students with professional animators, artists, actors, dancers and musicians, Garibaldi and Sullivan created a nonprofit called Creator X two years ago. Creator X hosts an annual summer camp that offers three days of action-packed art education. 
"Creator X was inspired by wanting to multiply creators through education inspiration outside the classroom," Garibaldi said. "If I didn't have Shawn's mentorship, I'd probably either still be doing graffiti or in jail because of it. He helped me see possibilities everywhere and gave me the opportunity to learn new skills without changing who I am."

Sullivan's program has won four National Television Academy Awards of Excellence and in 2016, the Walt Disney Family Foundation named his program the best high school animation program in the world. Throughout his achievements, Sullivan still holds immense Aggie pride and attributes his success to his long history with UC Davis.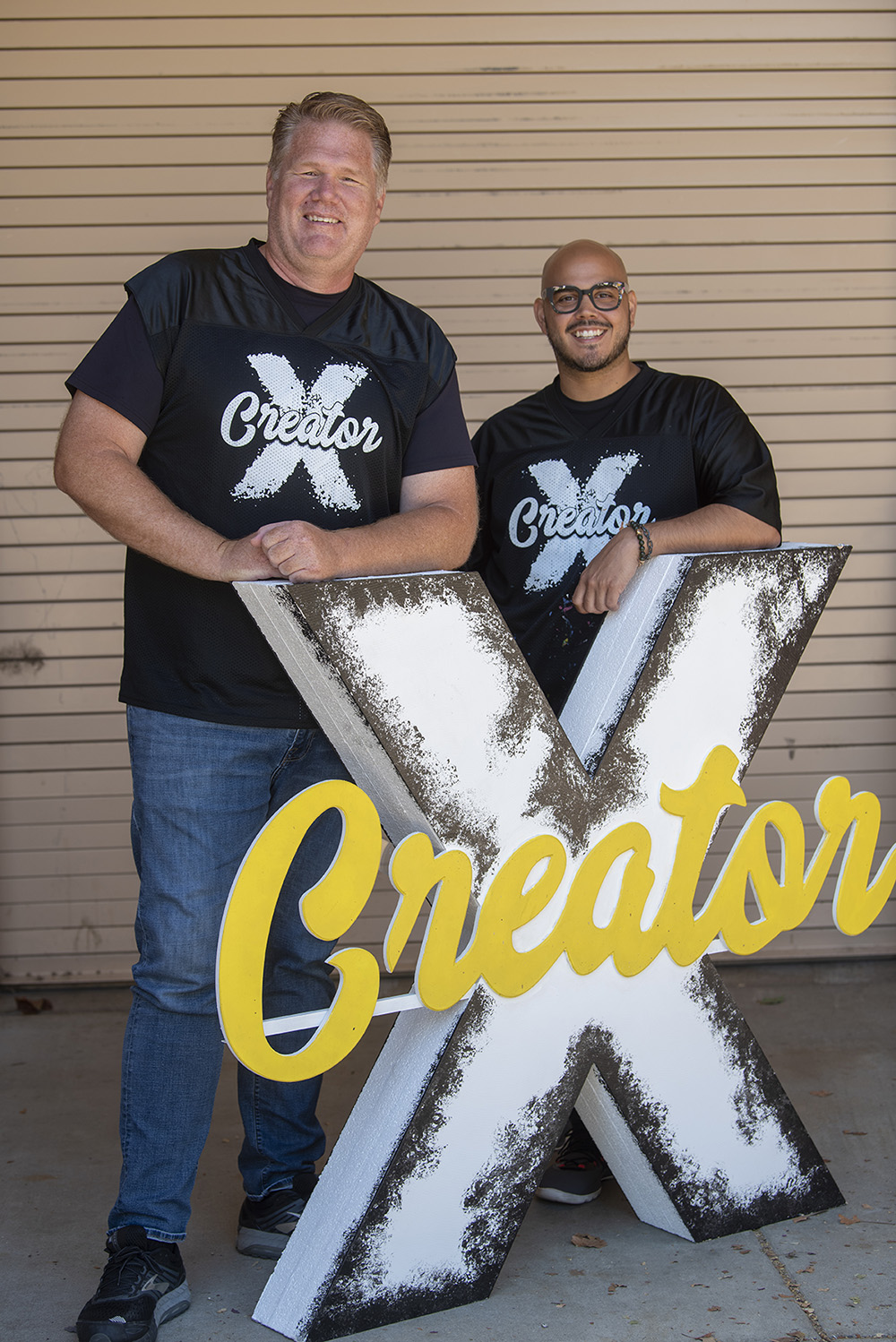 A true Aggie family 
Picnic Day and hanging out on the Quad are some of Sullivan's earliest childhood memories of UC Davis as his parents worked on campus in Reprographics and Microscope Services. When it was time for Sullivan to attend college, Coach Jim Sochor recruited him to play football at a school with exceptional art professors.
"The degree I earned at UC Davis has completely guided me to where I'm at today," Sullivan said. "I was in the best possible place, learning from the greatest people who opened my eyes to the possibilities of pursuing animation and teaching." 
Recently, Sullivan went back to the Art Department to thank Art Professor Lucy Puls, who still remembered him after more than 25 years. Similarly, Professor Emeritus Wayne Thiebaud continued to help Sullivan by critiquing his art even after he graduated and meeting with him weekly for a year.  
"That's what Davis is all about," Sullivan said. "I have never seen a college the size of UC Davis where professors still pay attention and remember their students' names. I feel very special and proud to be a part of UC Davis and that's why I continue to stay connected."
Although learning from Thiebaud, Robert Arneson, Manuel Neri and other legendary artists taught Sullivan perseverance, becoming a gallery artist seemed like the only viable career until David Feiss, creator of a cartoon called Cow and Chicken, introduced Sullivan to animation. 
"I had this crazy idea of bringing teaching and animation together at the high-school level, which never existed before," Sullivan said. "So being a young teacher, I wrote a class and had an amazing administration to support me." 
Sullivan says his hardworking students inspire him every day and according to Garibaldi, Sullivan's philosophy of giving back trickles down to alumni who come back to donate equipment, software, materials and offer current students advice and connections.
"It's my responsibility; if someone is taking the time to nurture me and give me information, it's wrong of me to not do that for somebody else," Sullivan said. "My students are hungry and they're giving me the time, so I have to give them everything I've got."
The Aggie tradition in Sullivan's family may live on, as his youngest son decides which college to attend. This summer, his son attended a football camp at UC Davis and grew fond of the campus. 
"I could not have been more excited and told my son everything I know about UC Davis," Sullivan said. "UC Davis holds a special place in my heart because of my family ties and because all I needed was an opportunity to pursue art during a time of uncertainty. Davis did that for me." 
Primary Category
Secondary Categories