One year after dressing the first lady, Aggie alumna's career skyrocketed
May 3, 2022—When First Lady Jill Biden stepped out in a brilliant blue Markarian dress, coat, gloves and matching mask during the January 2021 inauguration, Anneliese Koch '17 knew her career would never be the same. 
The Department of Design alumna is the marketing and sales manager at Markarian and helped execute and organize the outfit design presentation for Biden's team. The high-end fashion house offers luxury, ready-to-wear and made-to-order pieces to a few retailers and private clients.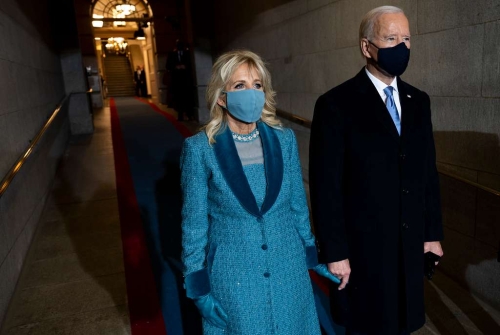 On inauguration morning, Biden's outfit was still a closely guarded secret—not even Koch and her colleagues knew if their designs were selected.
"I still remember anxiously watching the inauguration on CNN, waiting to see what the first lady chose to wear," she said. "That started a perfect storm for us," adding that the world was also reopening to business after 2020's COVID-19 shutdowns.
The Markarian team was thrilled to see that two of Bidens' grandchildren, Natalie and Finnegan, had also chosen Markarian ready-to-wear dresses. The once small and new brand started gaining recognition fast. 
"We hired three new team members in the past year and have seen a lot of growth as a brand, which is exciting," Koch said. "It has allowed me to explore and dabble in other areas of the business and interests."
Koch, who started as an intern at the brand-new fashion house almost four years ago, was the second full-time hire and now oversees the marketing, wholesale and direct-to-consumer sales. She has been working with the team to launch the Fall/Winter 2022 collection during New York Fashion Week in February and is now working on the Resort 2023 collection.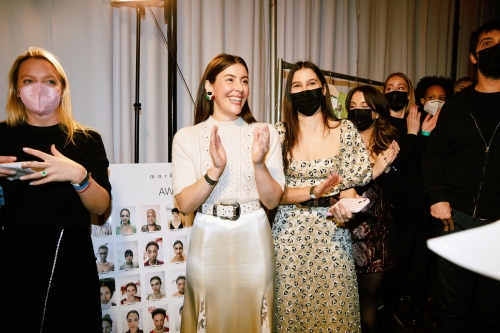 "It's been exciting to see the company grow and figure out, as we evolve, where I belong and what I can continue to do," Koch said. "I still have interest in working more creatively and in some aspects of design and I look forward to seeing how it all pans out."
The complete, fashion-forward education
Koch said her multidisciplinary educational experience at UC Davis helped her land a job in New York City. 
"Initially, I felt like I was a step behind people who were living in New York and interning at top magazines and fashion houses, but don't regret attending UC Davis at all," Koch said.
When Koch was touring colleges, she said UC Davis felt like home. She enjoyed all the greenery on campus and how the town rallies around the school like a big community.  
"When I was deciding if I wanted to study design, I turned away from art schools because I wanted to have the full college experience," Koch said. "I wanted all the options of a traditional university, but I liked that I could still explore different facets of design at UC Davis." 
In addition to Koch's design degree, she minored in art history and textiles and clothing. She also interned at a clothing company based in Berkeley and an interior design firm while studying abroad in London. After graduation, Koch took the next big step: moving to New York City to pursue a job in fashion.
"It's hard applying for jobs from California at an entry level position so I just decided to move across the country and hope that something would come," Koch said. "I ended up accepting two part-time jobs: one at an interior design firm based in Brooklyn and the other at Markarian." 
Koch's passion for fashion, art and design started at a young age, and continues to evolve over the years. Since living in New York City, Koch said she gravitates towards classic styles and clean silhouettes with a mix of more feminine pieces.
"My personal style has become a bit more refined, especially after working in the fashion scene," Koch said. "I've always been drawn to beautiful clothes, art and architecture, and I love being able to bring those beautiful clothes to other people so they can feel equally inspired."
Primary Category
Secondary Categories