From MLB Jerseys to Masks and Gowns
An Alum's Company Pivots and Rallies Community Support through ALL IN Challenge
Article Summary
Fanatics makes masks and gowns for hospitals and emergency personnel

Chris Orton and his team creates Fanatics ALL IN Challenge to support those in need

Family of Aggies support community during pandemic in their own way
Chris Orton '95 is proud he works for a company that does the right thing. When Major League Baseball (MLB) suspended the start of its season due to COVID-19, Fanatics, the world's largest retailer of licensed sports merchandise and official MLB uniform manufacturer, halted production of MLB jerseys to instead begin making masks and gowns for emergency personnel.
"We stopped doing part of our day job which was making MLB jerseys and focused on something that's just more important for everybody else out there right now," the global co-president of Fanatics' direct-to-consumer business said. "It was an awesome moment. We've made and donated more than 800,000 masks and gowns since we started."
Fanatics and MLB will split the manufacturing costs of at least one million masks and gowns; a total of $3 million. So far they've supported hospitals and emergency personnel in New Jersey, Pennsylvania, Ohio, Florida, Kentucky, Kansas, Louisiana, California, Illinois and Delaware.
But Chris wanted to do more. 
"We created the ALL IN Challenge, the largest digital fundraising movement ever with a goal of raising tens of millions of dollars or more to feed those in need during the COVID-19 crisis and beyond," he said. "Since the launch on April 14, Fanatics has raised more than $50 million with more than 400 people accepting the Challenge."
The ALL IN Challenge brings together the world's preeminent athletes, artists, entertainers, teams, sports owners and business titans to donate their most prized possessions and create once-in-a-lifetime experiences that is both available for online auction or as enter-to-win giveaways.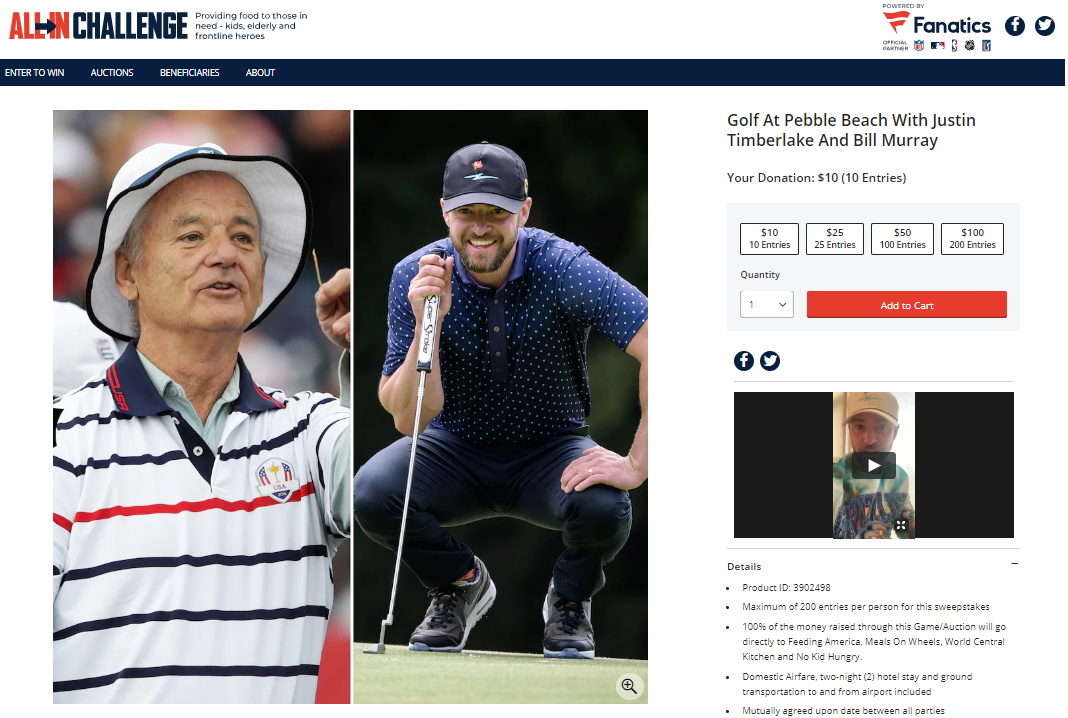 "We all feel trapped in our house right now and this is how I can go attack the virus and help society punch back," Chris said. "Unfortunately, my kids have been teasing me saying they haven't seen me for days."
Family of Aggies
Chris, who studied economics and international relations, is not the only Aggie in his family supporting a cause. His wife, Sarah Orton '95, studied human development and is an administrator for the San Carlos School District. She is helping the younger generation smoothly integrate into distance learning
And Chris' sister, Molly Ohainle '01, a biology grad and a senior staff scientist at Fred Hutchinson Cancer Research Center in Seattle, is currently collaborating on projects to understand why cells are susceptible to the virus that causes COVID-19.
"Any amount will make a difference for real people so I encourage every Aggie to be thinking about what you can do to help," Chris said. "Whether that means donating time, money, services, if we all come together to help, it's completely worth it." 
"Even though our labs are limiting access due to physical distancing, we are busier than usual and are being very proactive about using science to determine how to safely scale back up," Molly said. "I'm incredibly fortunate to have a job and a safe, stable home to ride this out."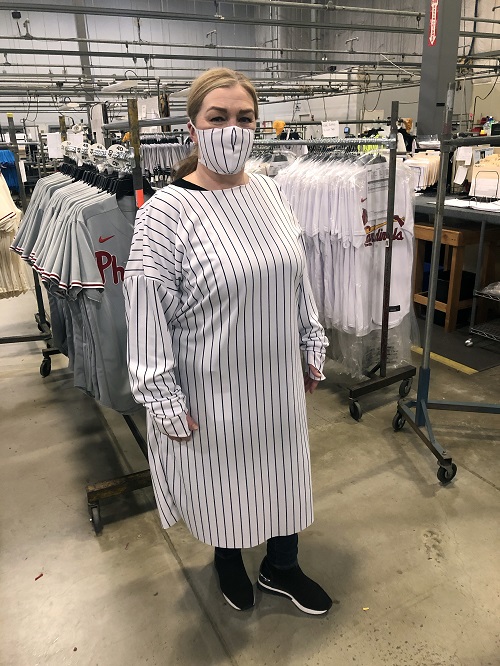 Their brother, Dan Orton '97, who studied political science and history, said he sharpened his problem solving, teamwork and communication skills at UC Davis, which has benefitted his career as a director of a technical consulting practice at Workday – a leading provider of enterprise cloud applications for finance and human resources.
"I am truly inspired to work for a company that has joined forces with other like-minded corporations to collectively raise $22 million to support the front lines of the COVID-19 crisis – including donations to the Silicon Valley Community Foundation, the Center for Disease Control and Prevention, and the United Nations Foundations, among other contributions," Dan said.
Dan's company also contributed $1.5 million to the Fanatics ALL IN Challenge. This family of Aggies have been working relentlessly to support and find solutions during this pandemic.
"Any amount will make a difference for real people so I encourage every Aggie to be thinking about what you can do to help," Chris said. "Whether that means donating time, money, services, if we all come together to help, it's completely worth it." 
Primary Category
Secondary Categories