A Front-Office View of Taking a Soccer Team Pro
Article Summary
Sac Republic FC earns MLS expansion spot to begin play in 2022
The franchise has been powered by Aggie grads and partnership with UC Davis Health
Franchise seeks to revitalize Railyards in downtown Sacramento
Sacramento was buzzing on April 18, 2019: Major League Soccer (MLS) announced there would be two new expansion teams in the league, and Sacramento Republic Football Club immediately emerged as a frontrunner to be awarded a spot.
Six months later, Sac Republic FC and its fans celebrated the MLS announcement that the team had clinched it — beginning league play in 2022. Cinderella was invited to the ball — a dream come true for this underdog franchise that began its first season in 2014 as a small, unknown team in a market unbeknownst to MLS.
How did Sac Republic FC orchestrate such a meteoric rise to the national stage of the MLS? It takes great owners and front office staff, many of whom are University of California, Davis grads. In fact, three of the five founding members of the team are Aggie alumni.
A dream career
One of those Aggies, Tim Stallings MBA '98, today serves as the team's vice president of finance and merchandise. Stallings was in a career transition when he read in the newspaper that his childhood friend Warren Smith had bought a soccer franchise. Stallings reached out and started putting his UC Davis degree to good use, consulting for the team, assisting Smith with the business plan and pitching potential investors.
"After that, I stepped into various roles with the team full-time," Stallings said. "Since I was able to get a general MBA at Davis, I learned a lot about many different aspects of business. I became a jack-of-all-trades for the franchise, and I've loved being able to step into different roles during my tenure with the team."
Stallings said his career in professional sports has been a wild ride, capped by that climactic moment in October when the team learned they would be joining the MLS.
"One thing I love about working in sports is that we get to stay connected to the public in a more intimate way than you'd find in other jobs," he said. "I like to say we are really in show business: We can't affect what is happening on the field, but we can make sure our fans have a great experience when they come to the game and create lasting memories."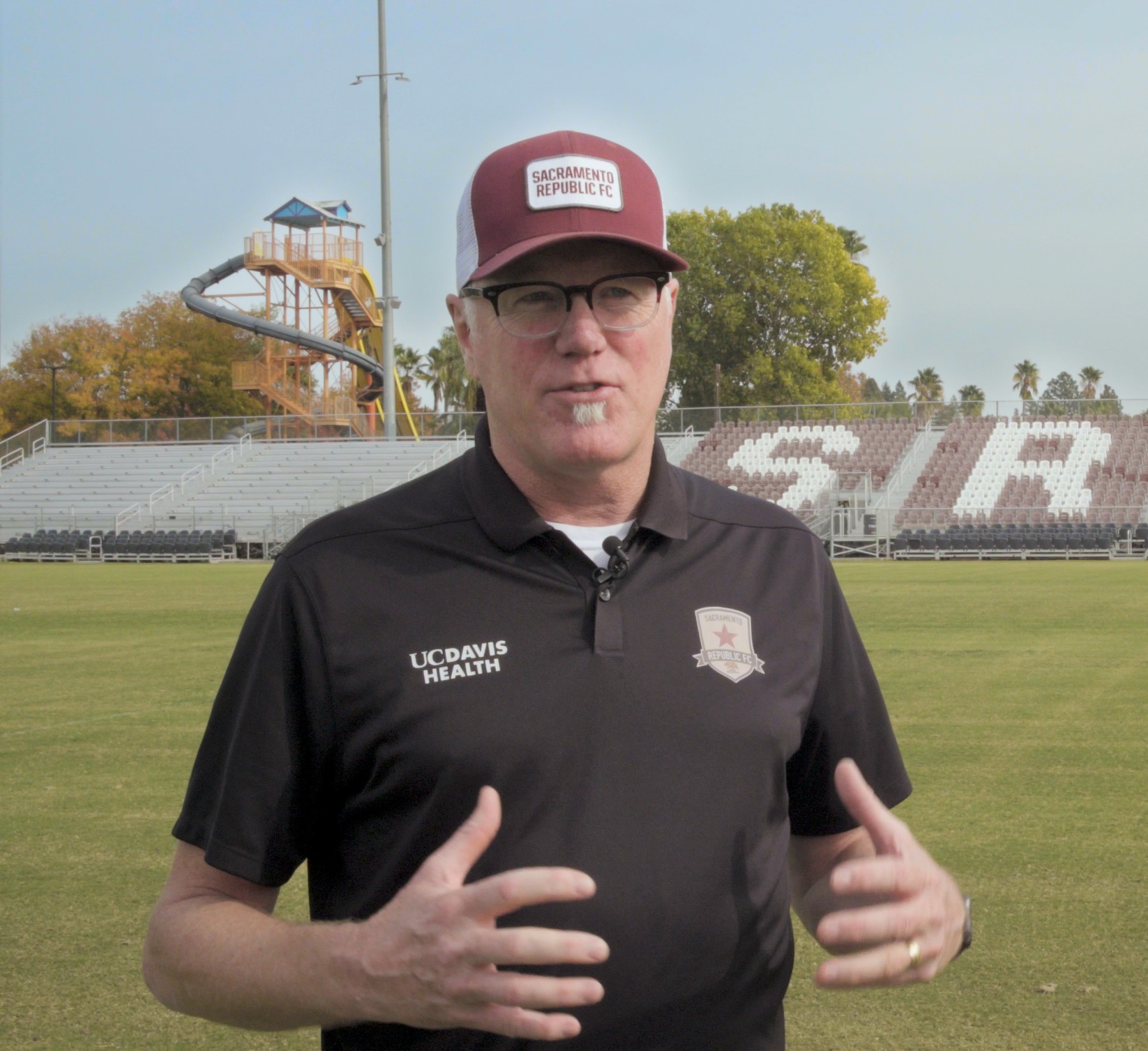 For Aggies hoping to pursue a career in professional sports, Stallings advises people to network with a front office staff person for a pro team. Job-shadow them, interview them and listen to their story on how they got their start.
"There aren't many entry points into professional sports," said Stallings. "But I think the best way to get your foot in the door is to find someone with a position you aspire to and glean as much information as you can from them."
The health connection
The jump to the MLS has been a long arduous process, which Stallings notes has been a whole-team effort over the past several years. He is especially thrilled to have UC Davis Health retain kit sponsorship of team at the MLS level.
"Not only are they a great partner and brand to associate with, they provide excellent health care to our players," Stallings said. "Being a Sac Republic player is an advantage over other markets where you don't have a doctor on the sidelines from your primary sponsor watching your every game. It's a pretty unique scenario."
Sactown revolution
Stallings' day-to-day responsibilities include overseeing the merchandising program ­­–– a program he believes is top-notch among U.S. soccer clubs –– as well as serving as a floating manager to other departments who may need his input and expertise.
His favorite part of the job?
No hesitation: "Making Sacramento a better place to live, work and play."
One of the ways Stallings' mantra will come to life is through construction a brand-new stadium for Sac Republic's inaugural MLS season in the heart of downtown's Railyards district. Stallings is confident this project will be the catalyst of a revitalization for the area.
"The stadium, as well as the entire Railyard project, will make Sacramento more attractive to younger talent to grow and start companies in this area," said Stallings. "Having an MLS team will put Sacramento on a global stage that just wouldn't be possible with other amenities or projects. It's truly an exciting time for the team and the Greater Sacramento community."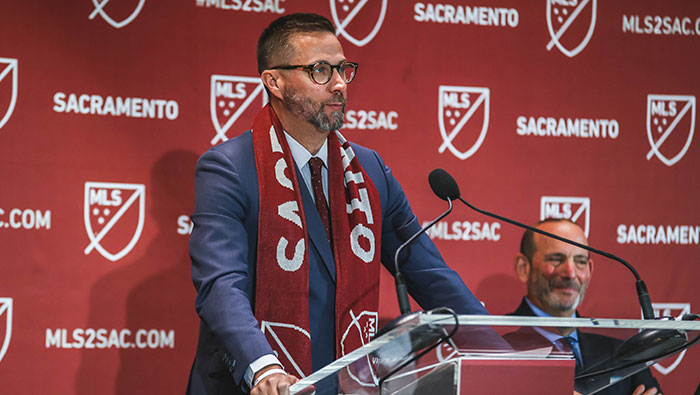 Alumni Assist
Read about other UC Davis grads who work for the Sacramento Republic.
Primary Category
Secondary Categories
Tags