Doctoral nursing alumna takes passion for health care across the globe
There's an Ag For That
This story is adapted from a previous article published by the UC Davis Betty Irene Moore School of Nursing.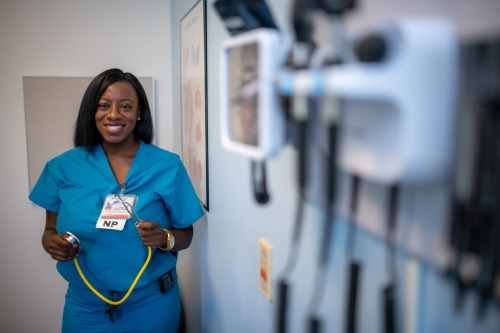 For the past seven years, pediatric nurse practitioner Adebola Olarewaju Ph.D. '20 has provided patient care to children at UC Davis Health with cleft and craniofacial anomalies and airway difficulties. She works closely with children and their families, sometimes from the time they are infants all the way through when they reach adulthood, which in pediatrics is 19 years old.
"I'm lucky that I really do get to see them from the very beginning and as they grow up," she said. "I love helping children transition from being acutely ill to stable and healthy while reaching their personal health milestones."
Now, in addition, she is extending her expertise across the globe by working remotely with health care specialists in Cambodia.
"I knew that I had a passion for working with children and women and that I wanted to do something that would affect them positively not only locally but also on a global scale," she said.
Olarewaju is working with a hospital in Cambodia that provides guest lecturing and mentorship to nurses who are looking to improve outcomes for infants in the neonatal ICU.
"Working with the Cambodian health team has allowed me to actualize my dream of working in global health," she said. "It has given me the opportunity to see health care through a different lens. Despite COVID-19 travel restrictions, providing lectures and consultations virtually has been impactful."
Olarewaju completed the Ph.D. program at the Betty Irene Moore School of Nursing in 2020, which gave her a strong background in research in addition to her clinical experience.
"For research, I believe that you have the opportunity to be on the cutting edge of something. Sometimes it's about discovering something new, but other times it's about discovering what doesn't work, which is just as important," she said.
"I'm so grateful for the four years that I had at the Betty Irene Moore School of Nursing. The classes really helped me with both quantitative research and qualitative research. It gave me a great breadth of knowledge  on how to improve my scientific writing skills and effectively communicate research with an audience."
Defining what it means to help people
Olarewaju's primary job is working with in pediatrics at UC Davis Health on the cleft and craniofacial team. Sometimes her patients are children born with genetic syndromes, or sometimes they have airway anomalies that require surgical intervention or medical management.
Like many people, Olarewaju decided to go into health care and study nursing to help people. However, she says, she only truly understood what that meant for her once she became a pediatric nurse.
"It is more than just 'helping people'," she said. "It is providing holistic care for the patient and taking the time to help the patient and family understand their medical condition. It's also problem-solving issues while keeping in mind what is feasible for the family and working with an interdisciplinary team to promote better patient outcomes."
Beyond UC Davis Health, Olarewaju has been actively involved in improving health care in the Sacramento community. During the pandemic she volunteered with Sacramento-based agencies to provide free vaccines to ensure equitable access for the community. She is also president-elect of the Sacramento chapter of the National Association of Pediatric Nurse Practitioners.
"As a Sacramento-based chapter we are steps away from the state capital and have the ability to be involved in the legislative process. The California chapters have joined together to support and advocate legislative bills that promote children's health and safety," she said.
Whether she is treating patients in the Sacramento region or interacting with patients virtually in Cambodia, Olarewaju strives to make an impact.
"Whatever I'm doing, I want to know am I affecting the community in a positive way," she said. "How can I help more than just the patient in my office? I want to know how I can help the community at large."