Building Your Career with the Support of an Alumni Network
Who you know can often be the difference between getting an interview or not, especially as an out-of-state or out-of-country candidate. That's where fellow Aggies come in. Aggie alumni have built their careers in all 50 states, and the Cal Aggie Alumni Association (CAAA) makes it a priority to connect Aggies who can help each other make career connections and maintain a lifelong connection to UC Davis from anywhere in the world.
When Onson Luong '06 graduated from the University of California, Davis with a degree in biotechnology, he never expected he would end up in New York City, far from his alma mater and his home state of Nevada.
Unbeknownst to him at the time, Luong's first job offer upon graduation came from a hiring manager who was also a UC Davis graduate. It was through this job that he was eventually contacted by a recruiter for Regeneron Pharmaceuticals, an innovative biotechnology company in Tarrytown, New York. He didn't know anyone in the big city, but he decided to take the leap.
Upon arriving to the East Coast, Luong began a search of fellow alumni living in the area, hoping to find connections based on their shared experience. It wasn't long before he found the best way to get connected to alumni in the area was by joining the alumni network of New York.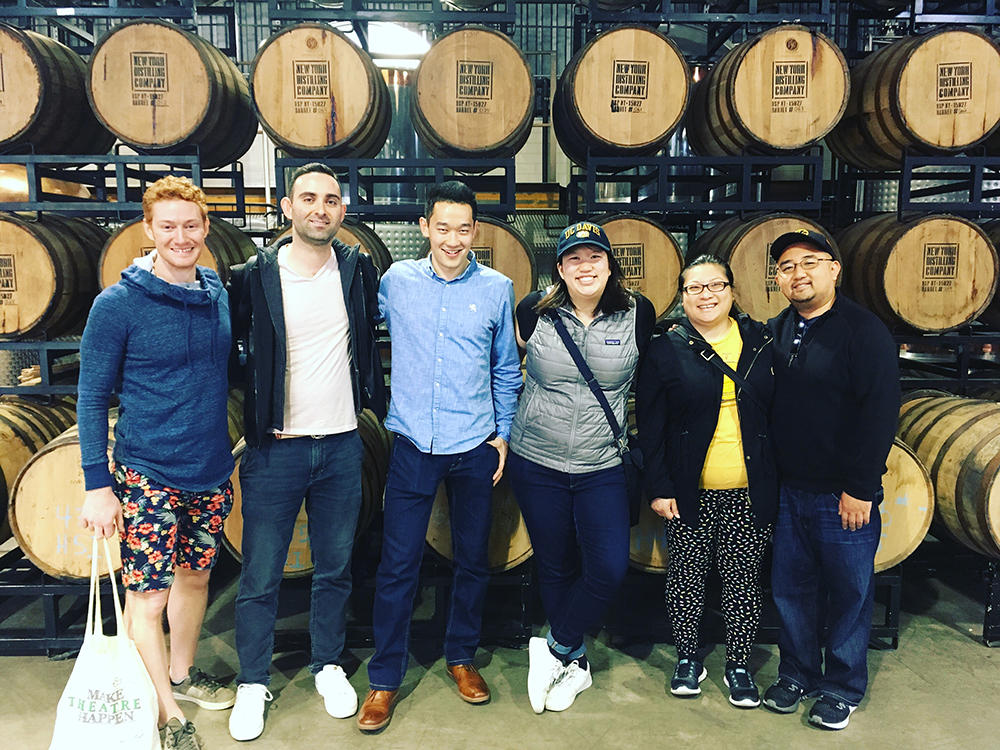 "I'm glad that I got involved and that the alumni network was there for me when I first started in a new city without any connections. When I first moved, it was very special to have a network of people who shared the UC Davis experience," says Luong, who now volunteers as an alumni network leader.
The New York Network has created several successful ways for local alumni to build and maintain connections. They founded the first "Aggie Eats" event, a way for Aggies to try out new restaurants together, and also planned events for the year that would support UC Davis alumni visiting New York, including a special gallery tour and a live art show. They also found ways to engage with campus from afar, by participating in Aggie annual events such as Picnic Day Around the World and Give Day.
Paying It Forward: Aggies Hiring Aggies
In addition to social events, the network also focuses on what CAAA is calling, "Aggies Hiring Aggies," an initiative to raise awareness about how Aggies are strong academically, serviceful, team players and dedicated to their professional growth – great qualities in an employee for any organization or company. Onson and New York Network co-leader, Bessie Chu '08, a CAAA life member, have both helped fellow Aggies stand out in the hiring process.
Chu shared this story as a recent example, "An alumna reached out to me about a position at my advertising company, GroupM, that fit her personal interests and qualifications. I helped her create a portfolio that would prove she could do the job and referred her resume and information to the Human Relations department. She got herself into the interviewing round."
Chu continued, "With so many people trying to get jobs in New York City, just getting your resume read and landing an interview is the hardest part. I was able to give her enough guidance to get her foot in the door. A few months later, she made the successful transition from Davis to NYC as a data analyst for the world's biggest advertising investment company."
In the future, the New York network would like to continue to expand opportunities for mentorship and networking, including a Fall Welcome Event for graduates moving to the area.
Onson explained, "We want to have a welcoming environment to any alumni new to the area and to one day provide ongoing professional mentorship for alumni in the same field. There will certainly be new opportunities for us as we discover and connect with more Aggies from all over the world."
Primary Category
Tags