Alum's bagel business is booming
UC Davis alum Emily Winston, M.S. '04, has turned a favorite childhood memory into a thriving enterprise that is giving the East Coast bagel scene a run for its money.
Winston is the founder of Boichik Bagels, a New York–style bagelry based in Berkeley, Calif., inspired by her love of enjoying fresh sesame bagels at H&H Bagels in Manhattan. 
"H&H was like the holy grail of bagels," she said. "I have this taste memory of licking the outside of the bagel and getting this malty flavor before even biting into it. I was on a quest to recreate that experience with my bagels." 
Most people wouldn't guess an engineer and transportation expert could build a better bagel, but Winston had the perfect recipe: a love of food and innovation.
Winston earned a master's degree in transportation technology and policy at the UC Davis Institute for Transportation Studies (ITS), where she also served as the de facto lead engineer for the department's Italian-made coffee robot that had a habit of breaking down.
After graduation she worked for a few years as a fuel cell vehicle program manager at the university's ITS, but Winston's inner foodie led her down a different path.
In just four years, she opened her first Boichik Bagels store in Berkeley and another in Palo Alto. She also built out an 18,000-square-foot warehouse equipped with a custom bagel-baking robot she developed.
"Visiting the factory is like going on a field trip," said Winston, who oversaw the design of the entire facility. "There is a huge viewing window that looks into the production area, and everyday people watch the bagel-making process unfold."
Winston's meteoric rise has been covered by major news outlets across the nation including the San Francisco Chronicle and the New York Times, which featured Boichik in a piece titled, "California has the best bagels (Sorry, New York)." 
"We blew up in the best way possible," she said. "I realized there was a clear demand for New York–style bagels in California."
Cooking up a new path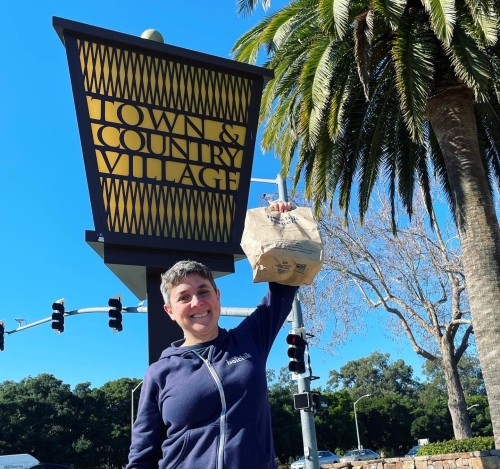 The seeds for Boichik were planted about a decade ago when Winston learned the iconic H&H store in Manhattan had closed. As she developed her own bagel recipe, she took baking classes and sampled bagels from all over — especially New York. 
Winston spent years baking test batches, searching for the perfect combination of density, maltiness, chew, crust and smell. 
"I set up blind taste tests at home with friends and even created an entire bagel-tasting vocabulary based on wine tasting," she explained. "Five years later, I had an amazing bagel."
She sold bagels from pop-ups in front of her home in Alameda to start, with customers lined up around the block in the early mornings.
Her business was growing rapidly, and she needed to find a retail space. That's where Noah Alper, founder of the Northern California bagel empire, Noah's New York Bagels, helped nudge things to the next level.
Alper called Winston in 2019 to tell her that Noah's flagship Berkeley location on College Avenue was closing after three decades, and the space would be available for lease. 
"It's an amazing location," he told her. "You should go look at it." 
It all fell into place from there.
Investing in a delicious idea
One of Winston's supporters and early investors is a professor and mentor she formed a great friendship with during her graduate studies at UC Davis, Dan Sperling.
"She's incredibly clever and is an extraordinary engineer," Sperling said. "The idea that she was taking her skills and applying them in innovative and creative ways really impressed me." 
Sperling is a distinguished professor of civil engineering and environmental science and policy and founding director of the Institute of Transportation Studies. He is also one of Boichik's original taste testers who often did field research for Winston when he traveled to New York and overseas.
"I travel all over the world, so I go to different bagel shops and test them out," he said. "I also take pictures and report back to let her know how her bagels compare — and Emily's are always better." 
Sharing 'memories of Jewish New York' 
Winston isn't just selling bagels; she's offering a piece of nostalgia. 
"What I get to bring to the table are memories of Jewish New York," she shared. "I've had no shortage of people thanking me, saying 'I've been in the Bay Area for 20 years and I'm so happy that I can now eat food that reminds me of home, and raise my children on it too.'" 
Some of Winston's favorite family memories are centered around food. She loved traveling with her father from central New Jersey to New York where he worked as a food chemist inspecting food factories. After the work, they would head to H&H for fresh bagels and to Zabar's market for exotic cheeses, lox and other specialty items.
Winston said the inspiration behind her business name, Boichik Bagels, is a nod to her Jewish heritage and queer identity. 
"When I first chopped off my hair and went home to see my grandmother, I was nervous about what she would say," Winston said. "She took one look at me and said, 'my little boychik.' It was a sweet moment." 
Boichik is a mix of a Yiddish word, boychik — a term of endearment for a young boy —and the slang boi used to refer to gender identities in gay and lesbian communities, Winston explained.
"People either appreciate it or don't notice it," she said. "Either way, it has a very special meaning to me."
Building a bagel empire
Today, business is booming.
Boichik currently sells about 15 different bagel flavors, including sesame, everything, egg and pumpernickel. She also sells house-made schmears, coffee from a local roaster, fish salad, lox and a few seasonal items, keeping her menu true to "old-school New York."
Winston broke ground earlier this year on a retail space in Santa Clara and plans to advance into the Southern California market soon. And Boichik recently launched nationwide shipping for select flavors.
As the business continues to expand, customers may soon be able to find these New York–style bagels in the freezer aisle at their local supermarket.
"I want our bagels distributed up and down the West Coast," Winston said. "In the next five years, I want Boichik to be the go-to, household name for bagels."
For now, she is just having fun and taking things one step at a time.
"I grew up playing computer games like SimCity and Civilization so it's like I am playing a computer game building 'super bagels' and I have my little bagel armies on the map," Winston added. "Maybe I won't build an international empire, but it's fun to dream."
Primary Category
Secondary Categories