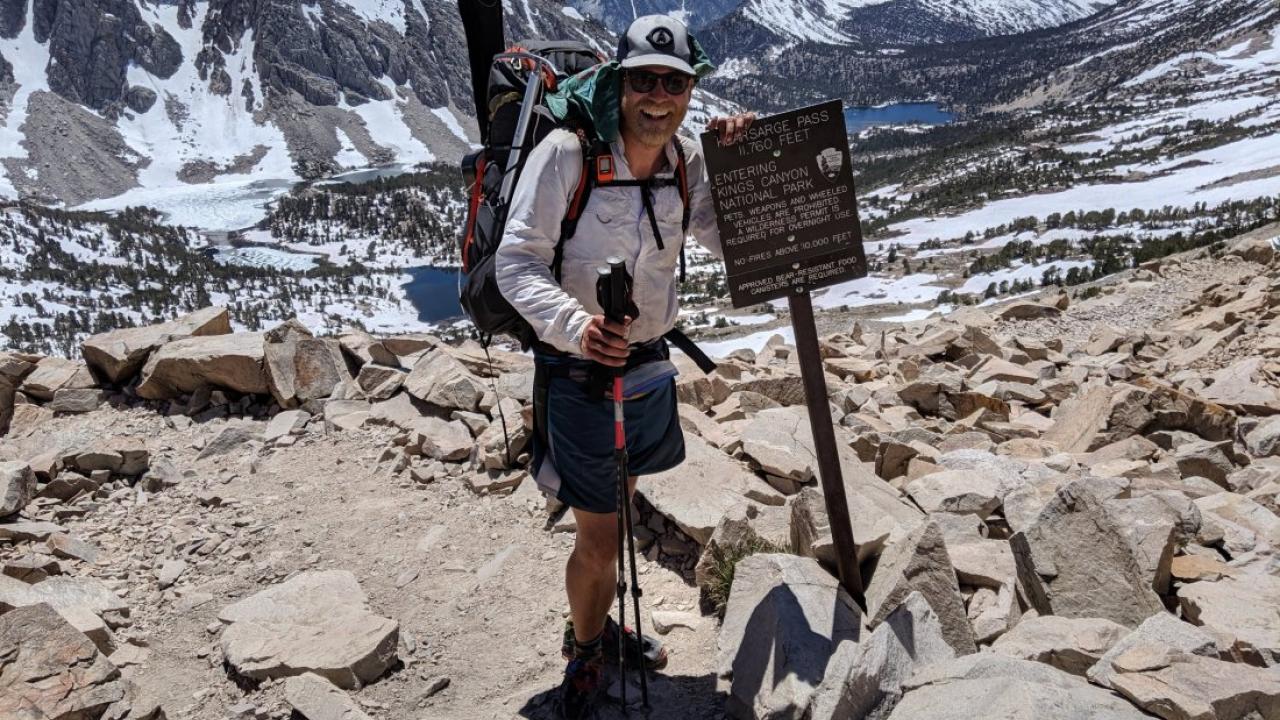 How one alum dropped out, laced up and hiked the Pacific Crest Trail
By Trevor Stewart
Just put one foot in the front of the other. Sounds simple, right? But for Soren Christian '13, achieving his dream of hiking the Pacific Crest Trail from Mexico to Canada would be anything but.
"The hardest part is deciding to just do it and putting the rest of your life on hold," Soren said about his five-month journey. "Once you take that first step, the next six million steps will be a lot easier."
On October 3, 2019, after traversing mountainous terrain and battling inclement weather, he achieved his longtime dream as he took the final steps of the 2,560-mile trek.
Soren — or as fellow hikers knew him, American Pie, a trail name he earned by filming himself singing a line of the song at every stop — shared with us the details of his adventures and a few interesting anecdotes to boot.
The first steps to something great
Growing up in Davis, Soren spent a lot of time hiking and skiing in the Sierra Nevada Mountains. He had always been drawn to endurance activities, even participating in a few marathons prior to embarking on this expedition of the Pacific Crest Trail.
Soren attended graduate school at the London School of Economics in London, England, after graduating from UC Davis. He then began a career as a consultant for a London firm, but his plan was always to pay off his school loans, quit his job, hike the Pacific Crest Trail and then move back to the United States permanently.
His trek began on May 8, 2019, originating at the Southern Terminus of the Pacific Crest Trail at the U.S.-Mexico border. Here's an excerpt from Soren's blog from his first day on the trail:
On the trail!

"Our morning started relatively early, and we left my friend Lauren's house in San Diego around 8:30. After a long, hearty breakfast in El Cajon, we made it to the border monument a bit before noon. After a few miles meandering near the Mexico-U.S. border, the trail turned north and began heading into the Laguna Mountains. The weather all day (and all week, I hear) was cool and foggy, making it feel more like a summer day in the western half of San Francisco than something which is called 'desert.' That was a real boon, as I was worried about the harsh transition to both a strenuous lifestyle and baking heat. The latter will come before long, but hopefully I'll be on board with the former by that point."
Soren said that while planning is important, many hikers over plan and it can hamper their ability to be flexible.
"Your plans go out the window by the second day," he laughed. "You just don't want to be tied to a strict itinerary, because you never know what the next day will bring."
The hiker's code
Life on the trail is a unique experience. It consists of dos and don'ts, types of people you meet on the trail, trail nicknames, trail angels and trail magic. All these are real things hikers discuss along the way.
"The trail magic shows up in many of these small towns," Soren said. "The people are so kind and welcoming to the hiking community, which was really a highlight throughout the trail for me."
Soren recorded one of these examples of trail magic, while traversing through Oregon.
Ashland to Crater Lake

"The next day was made more challenging …

… A rainstorm rolled through starting in the early afternoon. Fortunately, at the spot where we were aiming for lunch, a lovely woman named Clementine had set up a trail magic station. She was staying a week in a town nearby where her husband was for work, and decided to spend her days helping out hikers, having hiked sections of the PCT herself. She had awnings, a grill with hot dogs, tons of snacks, and a charging station."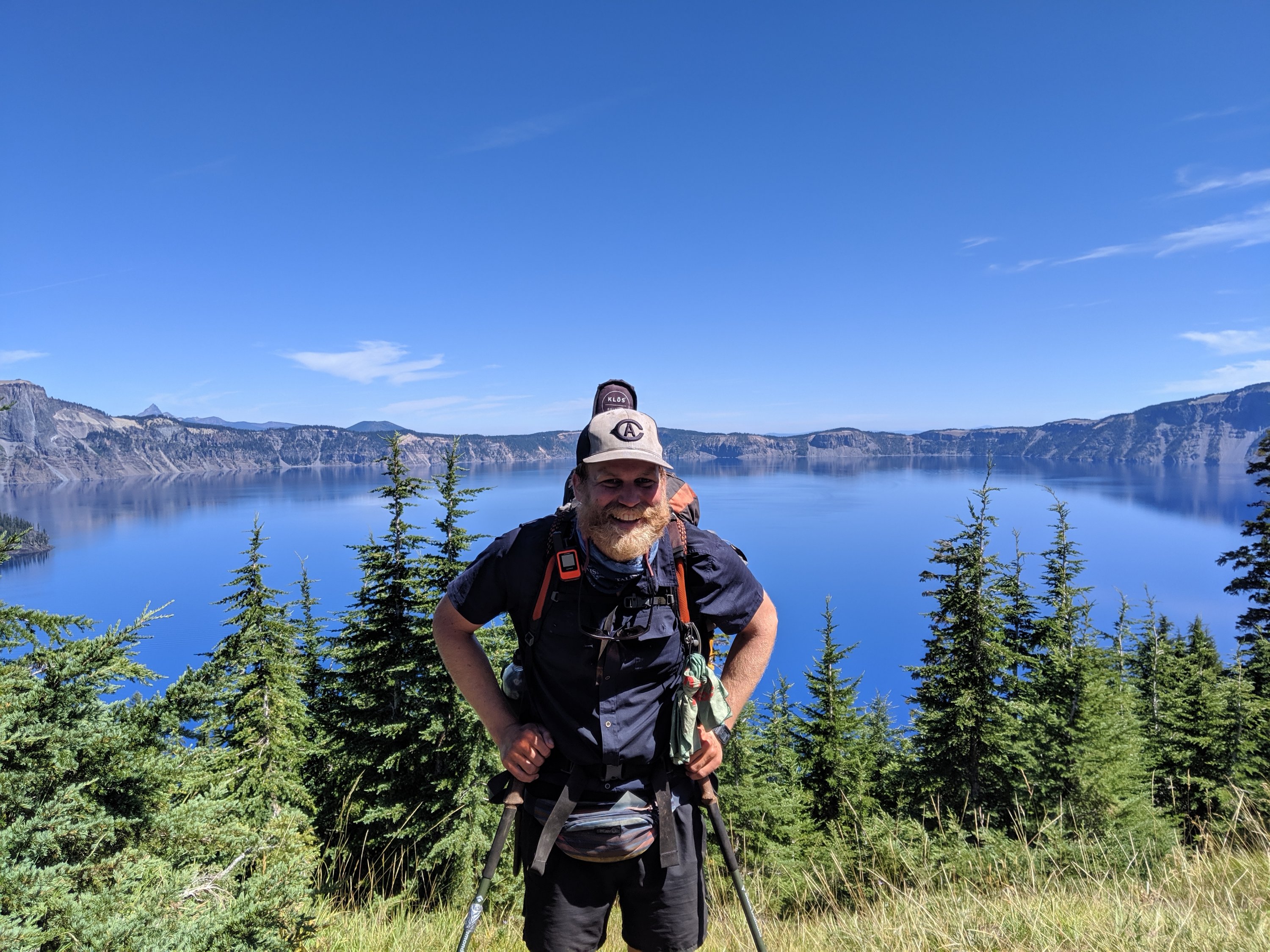 Happy trails
Soren said for those who want to follow in his footsteps, there are a few things to know in preparation of hiking the Pacific Crest Trail.
Carefully select your gear. It needs to be sufficient to get you through the voyage, but light enough to not weigh you down.

Acquire the proper permits. Hiking the Pacific Crest Trail requires permits for camping and access through national parks.

Stay mentally positive.
Soren said he will never forget this experience. He recalls marveling at the aesthetics of the High Sierras and Yosemite, saying it was unlike anything he had ever seen before.
Toward the end of his expedition, he faced harsh inclement weather in the mountain passes of Washington State. But he never thought about giving up.
"I was mentally committed to completing the trail," Soren said. "No amount of discomfort was going to stop me at that point."
Through the gales and snow, the cold and the treacherous mountainous terrain, Soren reached the northern terminus at the Washington State and Canada border. His blog details his elation upon succeeding in his quest to hike the Pacific Crest Trail.
Final Day: 2649 to Northern Terminus (2653) and Manning Park Lodge (2661)

I woke up pretty early the next morning and hiked the final four miles to the U.S.-Canada border, arriving at around 9, and staying for about an hour.

The mood was jubilant and reverent. Lots of shouting, laughter, tears of joy, some weightier tears (not necessarily of sadness, but of the emotional weight of completing such a major undertaking).

And so that's it for my grand journey! … The main thing that sticks with me is how much time seemed to slow and how eternal it all felt, in a very good way. I think back to standing on the Southern Terminus, or the tranquil beauty of Mt San Jacinto covered in snow, or hiking all night across the LA aqueduct, or sleeping in the hut atop Muir Pass in the High Sierra, or the god-awful treeless volcanic section north of Lassen, or the cobalt beauty of Crater Lake, or hiking 68 miles in 26 hours in Central Oregon, or crossing the Columbia River at the Bridge of the Gods, and it all feels like it took an entire lifetime to achieve.

And yet it was all in the last five months. It will never be possible again, even if I were to do a second thru-hike, but I wish I could make every five months feel like a lifetime. Life is short; make it count.
Epilogue
After completing the trail, Soren returned to work for his employer in London, who offered him his job back. Soren is working on attaining British citizenship.
Soren misses the U.S. — home — but stays involved with the CAAA chapter in London.
"What I love about UC Davis is the sense of community that you're welcome to be who you are; there's a spot for you and people will love you for who you are," he said. "There's a camaraderie that doesn't exist in a lot of other places."
What's the next big adventure or challenge for Soren? For now, a little rest and relaxation. But there are many mountains to climb, trails to be hiked and marathons to be run in his future.
Category