Aggie, Interrupted
A life of art, love and surviving WWII incarceration
As told by Leslie Eya '77 and Monica Lempert
When Keiso Eya (1922-2021) arrived at UC Davis as a first-year student in 1941, he could not have anticipated that it would be nearly 70 years before his graduation ceremony.
Eya's studies were abruptly ended in 1942, when he and his entire family were forcibly removed to the War Relocation Center in Rohwer, Arkansas, as a result of the presidential executive order that incarcerated Japanese Americans and Japanese immigrants from the West Coast.
Decades later, in a 2009 graduation ceremony, the University of California conferred an "Honorary Degree of the University of California Inter Silvas Academi Restituere Iustitiam (to restore justice among the groves of the academy)" on Eya and 46 other students from UC Davis who had been incarcerated during World War II. Eya, who passed away peacefully in January, was 87 at the time.
Rooted in California
Art and UC Davis were two constants throughout Eya's life, recalled his granddaughter Monica Lempert. Born in the farming community of Gardena, California, Eya was the seventh of ten children. From an early age, he saw the world through an artist's eye.
On trips with friends through Northern California in the late 1930s, he snapped photos of the Golden Gate under construction, the redwoods of Yosemite, the Japanese Garden in San Francisco, and his friends and siblings. While serving in the U.S. Army in Japan, he spent the first two months of his GI salary to collect copies of Hiroshi Yoshida's woodblock prints. Decades later, he made oil paintings of Yoshida's scenes. No matter where his travels took him, Eya was creating something and making the people around him smile.
Eya's parents were farmers, so it made sense that when he decided to go to college, he chose to study plant sciences at what was then the College of Agriculture at Davis. He lived on Second Street, in what is now the Turtle House, remembers his daughter Leslie Eya.
Eya had just begun his studies when Executive Order 9066 was signed in early 1942. President Franklin D. Roosevelt, bowing to public fear and disinformation, gave the order to incarcerate more than 120,000 Japanese Americans living on the West Coast—including Eya, his parents and his siblings.
He was one of more than 700 students at four UC campuses, including 47 Davis students, who were unjustly incarcerated as a result of the presidential order. These students were unable to complete their educations, and many never returned to college after the end of World War II.
Many Davis faculty criticized the wrongful incarceration of Japanese Americans. President Robert Sproul joined other University of California leaders in protesting the government's actions to Supreme Court justices and other officials. In early 1943, the Davis campus closed and was converted into a training facility for the Western Army Signal Corps School for the remainder of the war.
Surviving Rohwer
Eya's family remembers that he always had a positive outlook and liked to make jokes—and he seemed to approach the two years he spent at Rohwer the same way. He told his family stories of his good memories, like "twirling the ladies" on dance nights or laughing about the fact that he was assigned to be a chef but wasn't very good at it.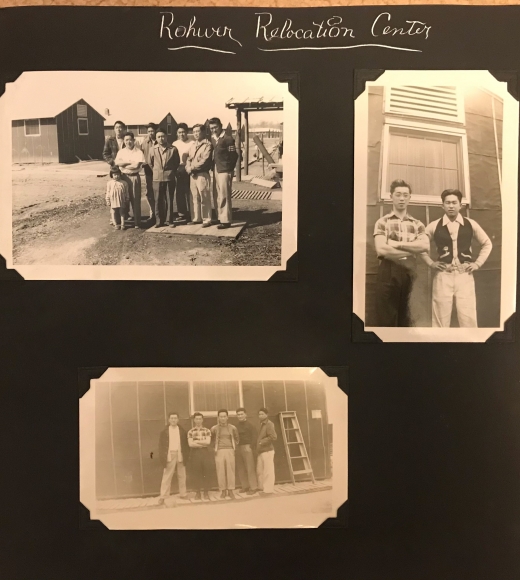 Mostly, however, he didn't talk too much about the experience, said his daughter Leslie. Lempert thinks he may have censored the stories he told his grandchildren, to avoid telling his family the painful experiences.
Eya elaborated on his time at Rohwer with UC Davis Magazine in 2010, sharing that the Rohwer center was overcrowded, poorly constructed and utterly lacking in privacy.
Eya lived in barracks without plumbing or cooking facilities, alongside about 8,400 other Japanese Americans. (Actor George Takei, for example, has spoken about his experiences at Rohwer as a young boy.)
"It was very cold in winter, as there was no insulation. And there was barbed wire all around," Eya said. "We took it in stride as much as possible. We thought it was something that couldn't be helped."
At the end of World War II, Eya was drafted into the U.S. Army and due to his Japanese language skills, trained as an intelligence officer. He was sent to Tokyo during the U.S. occupation, and after the war ended, he continued working for the U.S. government as a civilian.
Building a life, returning home
Eya met his wife, Mitsu Sakai, while working at the Mitsubishi headquarters during the U.S. occupation. Through his relatives, he learned of a very beautiful woman who also worked at Mitsubishi, at a time when it wasn't common for women to work outside the home.
Keiso quickly arranged to meet Mitsu, fell in love and after a couple of years of courtship, married her in 1953. In the next two years, they welcomed their son, Bryan, and daughter, Leslie, to their family.
The Eya family lived in Japan for another two decades. Eya spent his last 10 years in Japan in charge of facilities operations at Sagamihara Armed Forces Base, before retiring from government service.
In 1975, the Eya family returned to California's Bay Area, where Eya continued to work at Merck Chemical. Keiso and Mitsu were in their 50s, and the Bay Area in the 1970s was a whole new experience and brought a new set of challenges—especially for Mitsu, who was raised in a very traditional Japanese family.
Once again, Eya's story intersected with UC Davis. Bryan chose to attend UC Davis, studying biochemistry and joining the wrestling team. Leslie soon followed, majoring in design in the College of Agricultural and Environmental Sciences.
And more than six decades after leaving UC Davis, Keiso Eya was recognized for his university studies. The ceremony was part of a larger systemwide effort to right the wrong for students who were unable to complete their degrees.
Eya was thrilled, said Leslie. He was very proud to have attended UC Davis, and after the 2009 ceremony, told UC Davis Magazine that the experience "like walking on cloud nine. That's the good thing about the American people," Eya said, "they will undo a wrong."
Art, song and laughter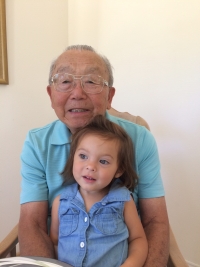 In his retirement, Eya returned to the activities he loved as a young man. "My father was a master of many artistic talents," said Leslie Eya, and avidly pursued his beloved hobbies. He took up oil painting again, painting portraits of his great-grandchildren or images that caught his eye in books and magazines. He danced with his grandchildren and would do silly things to make them laugh.
Eya built a Japanese garden in his backyard, along with a rock garden, a pergola and a koi pond. He was very precise, and his landscape designs were immaculate. He'd often slip away to trim his bonsai trees after the Sunday dinners he and Mitsu hosted.
And he was always singing or humming a tune, said Lempert. He favored the classics from the 1930s and 1940s, like "La Vie en Rose" or "The White Cliffs of Dover." He would sing through the halls of his senior living facility, waving hello while staying perfectly in tune.
"With everything he went through, and all the hardships he endured, it's incredible that we only remember him smiling, laughing, cracking jokes and singing," said Lempert.
Primary Category