Aggie Family Celebrates a Double Graduation for Twins
Pandemic Changes Post-Graduation Plans 
By Ashley Han
Article Summary
Julia and Livia Morris decided to stay local for health reasons

They joined their parents as UC Davis alumni this past June

The pandemic has changed the sister's post-graduation plans    
Julia '20 and Livia Morris '20 love that they can mention a place at UC Davis and their parents know exactly what they're talking about. That's because David, Ph.D. '89, and Cyllene Morris, M.P.V.M. '89, Ph.D. '94 met here on campus. 
In fact, this quadruple-Aggie family still calls Davis home. David and Cyllene raised their identical twins in town. And on June 12, Julia and Livia joined their parents as UC Davis alumni, both graduating with degrees in science & technology studies (STS). Livia also majored in cognitive science to complement her studies in STS.
Julia and Livia decided to study at UC Davis in part because of ongoing health challenges. Julia has Lupus, so staying local helped her cope with balancing school and her wellbeing.
"At times it feels pretty isolating since most people in their twenties haven't experienced these sorts of medical issues," Julia said. "Although there have been plenty of negatives, I'm ultimately grateful for the experience since it toughened me up and helped me grow as a person."
Livia has experienced similar health challenges throughout her time in college.
The sisters say that attending UC Davis changed their perspective on the city and university as a whole, and helped them feel more connected to the community they grew up in.
A Twin Story
"One time Livia went to my internship (pretending to be me) but my supervisor immediately took her to the conference room for a briefing and made sure to remind her about the non-disclosure agreement I signed. Livia panicked so I crashed the meeting – the whole thing was chaotic and my supervisor was kind of terrified." – Julia
"I was surprised by the size and the scope of UC Davis in terms of not only the student population, but the number of departments and the sheer volume of research and related projects that take place on campus," Julia said. 
However, being one of the largest UC campuses, Julia and Livia wanted a more intimate field of study, which is how they found science & technology studies.
"Being a part of the STS program and getting involved in campus-wide initiatives helped us create a tight knit community, so I conflate UC Davis and my home," Julia said.
"I really love how flexible and interdisciplinary the major is," Livia added. "It's customizable to your personal interests and it deals with the past, present and future more so than any other major on campus."
"We feel more connected to campus, and not just because we grew up here," Julia said. "Being a part of the STS program and getting involved in campus-wide initiatives helped us create a tight knit community, so I conflate UC Davis and my home."
Their parents' academic background sparked their interest in topics related to science and technology. David earned his Ph.D. in genetics and is a former UC Davis faculty member in the Pathology Department. He is currently the founder of Capitol Corridor Ventures.
Cyllene was a practicing veterinarian in Brazil before coming to UC Davis to earn her master's and Ph.D. in epidemiology. She is now a research program director and epidemiologist at CalCARES.
Graduation and Next Steps
Like all graduating seniors this year, Livia and Julia celebrated commencement virtually. The pandemic has forced the family to take extra measures to stay safe and find creative ways to continue their work.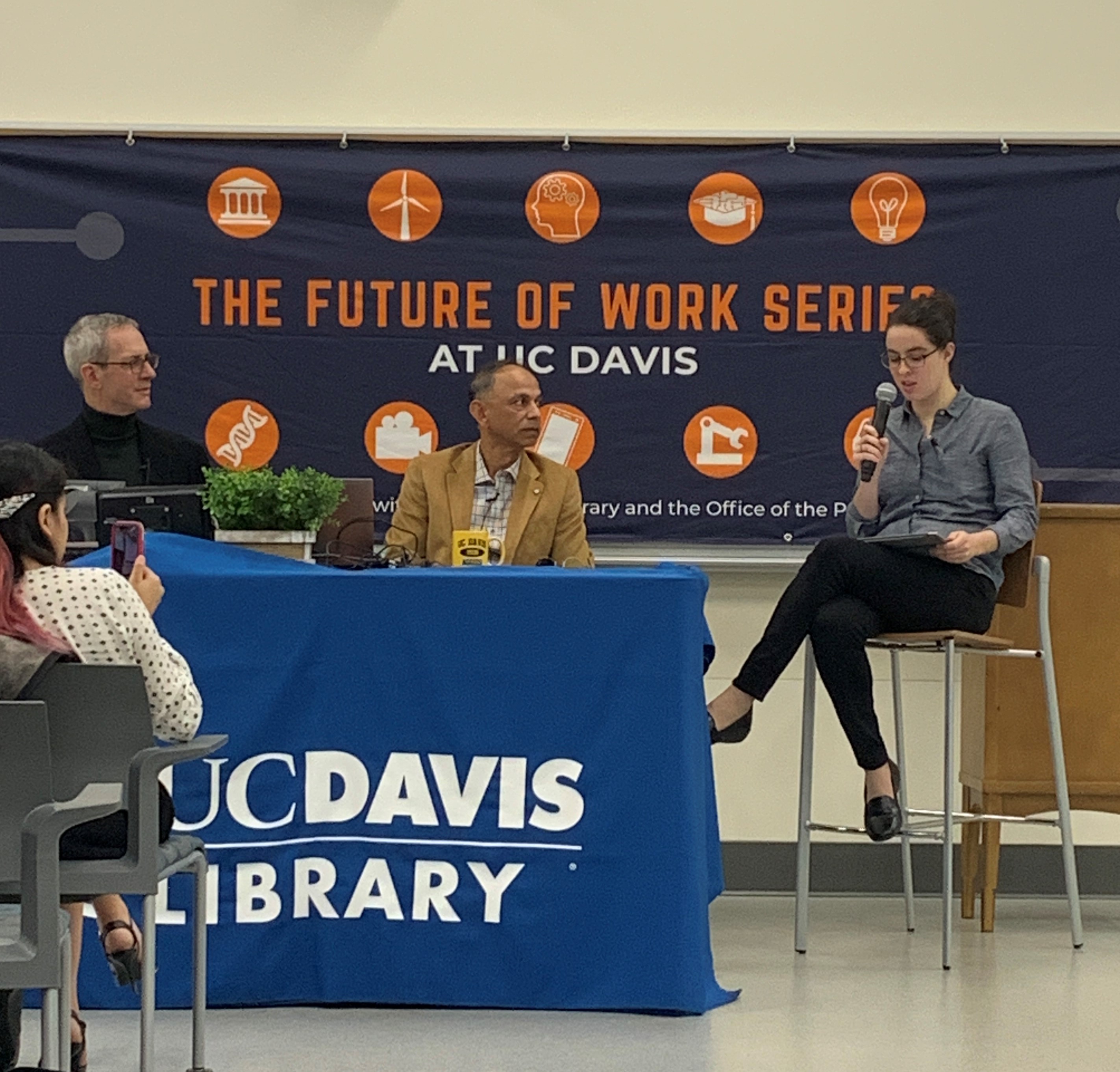 In 2019, Julia and Livia launched a speaker series called the Future of Work at UC Davis, which brings together experts from academia, government, and industry to discuss new and emerging fields of research and employment.
"Although we haven't been affected by the virus significantly, it has impacted the speaker series, which had to be moved to an online format rather than our typical in-person events" Livia said.
During spring quarter, Julia and Livia hosted virtual interviews from their home with experts on how the coronavirus is changing work. 
"We've found that the speaker series is a really great vehicle for strengthening the relationships between alumni and different departments and groups on campus," Livia said. 
Julia and Livia plan on applying to graduate school this upcoming cycle, but their post-graduation plans are still taking shape. Their gap year may be filled with new opportunities regarding the speaker series and other higher education work. 
"My hope is that this pandemic will be an important moment that sparks some much needed changes across this country and throughout the rest of the world because it's shining light on existing social ills," Livia said. "It's paving the way for positive social transformations and I really do hope that students find hope during this bleak situation."
Primary Category
Tags