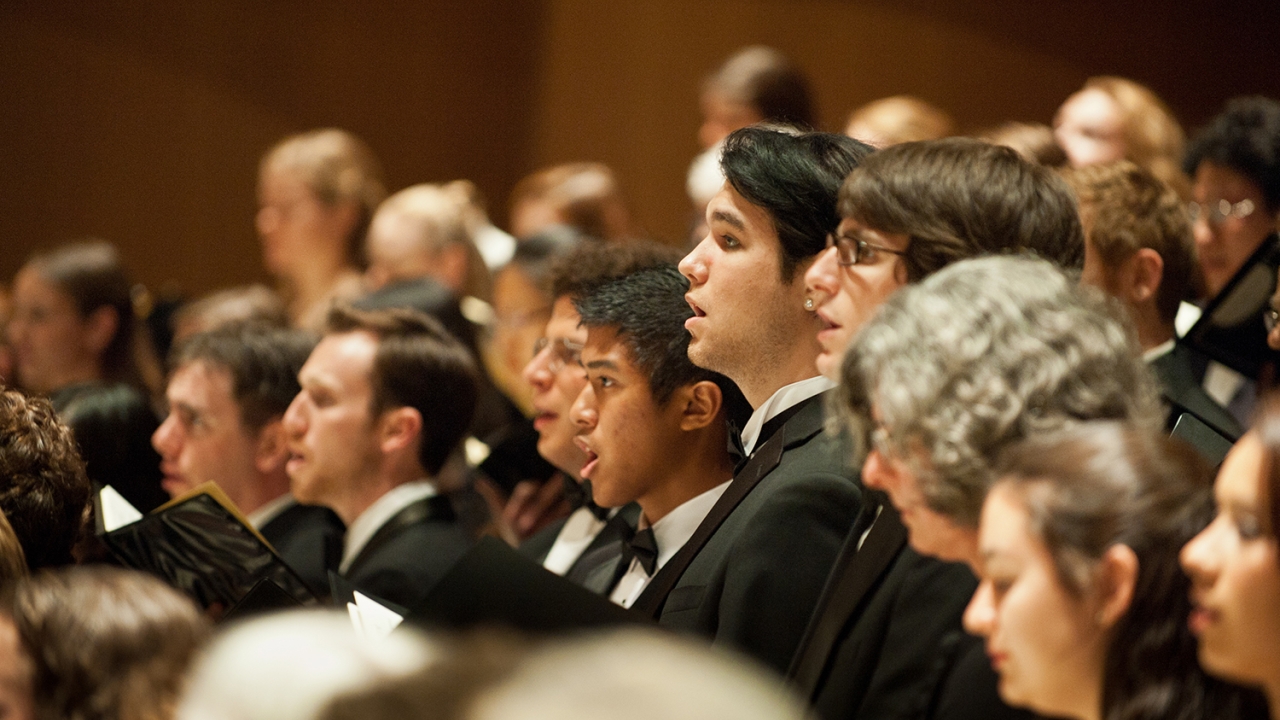 The UC Davis Symphony Orchestra, University Chorus and Alumni Chorus return together in March for a "Resurrection".
The newly formed Chorus Alumni Network partners with the Department of Music for a weekend of alumni chorus participants. Join us for rehearsals for Mahler's Symphony No. 2 and Mari Esabel Valverde's Our Phoenix, a concert evening reception and a Chorus Alumni Network Gathering from March 10 - 12, 2023. The concert will be performed in memory of the late Albert McNeil, professor emeritus of music at UC Davis and who directed choruses and founded the Chamber Singers for the better part of 20 years.
Register by February 21, 2023 for the alumni chorus weekend. Registration for the weekend includes a Friday night Chorus Alumni Network happy hour, a Saturday rehearsal lunch and a post-concert reception. A full schedule of the alumni weekend can be found below along with hotel information and the choral music for Mahler's 2nd.
Registration
$25.00 CAAA members
$32.00 non-members
Cost: Includes Chorus Alumni Network gathering with appetizers and no host bar, concert reception, and rehearsal luncheon.
Chorus Alumni Reunion Schedule
Friday, March 10, 2023
1:00–2:00 p.m.   Registration in the Vanderhoef Studio Theatre, Mondavi Center (VST)
(Light pastries, coffee, tea)
2:00–5:00 p.m.   Alumni Chorus Rehearsal (VST)
5:00-7:00 p.m.   Chorus Alumni Network Happy Hour at the Walter A. Buehler Alumni Center (BAC)
7:00–9:00 p.m.   Alumni Chorus Rehearsal (VST)
Saturday, March 11, 2023
10:30 a.m.–12:30 p.m.   Alumni and University Choruses Combined (VST)
12:30–2:00 p.m.   Lunch by Olive & Vine at the Yocha Dehe Grand Lobby, Mondavi Center (YDGL)
2:00–2:30 p.m.   Evacuation Drills at Jackson Hall, Mondavi Center (JH)
2:30–6:00 p.m.   Combined Orchestra and Choruses: Gustav Mahler: Symphony No. 2 (JH)
6:00–6:30 p.m.   Choruses Only: Mari Esabel Valverde: Our Phoenix (JH)
Sunday, March 12, 2023
4:00–5:00 p.m.   Combined Chorus Warm-up Only (VST)
5:00–6:00 p.m.   Combined Orchestra and Combined Choruses (VST)
7:00 p.m.   Concert (JH)
Reception in the lobbies following the program (YDGL)
Tickets
Tickets range $12 – 24 via the Mondavi Center
Chorus members will receive a discount for tickets after registering for the event. The discount code is for friends and family to receive a discount on tickets.
Hotels
We recommend a couple different hotels depending on what your ground transportation preferences are. The closer the hotels are to the venue, the less pressure there is to rent a vehicle as hotels are within walking distance of the venue. They also might be a higher base rate. We do not have a guaranteed rate pre-arranged at any of these hotels but Marriott and Hyatt Place links include first-come discount codes in the link.
Hyatt Place on Campus via Old Davis Road
Aggie Inn Hotel on 1st and B Streets
Hyatt House Cowell Blvd in South Davis
Hilton Garden Inn Downtown Davis
Marriott / Residence Inn Davis
Program
Mari Esabel Valverde: Our Phoenix*
Gustav Mahler: Symphony No. 2 ("Resurrection")
Download the Vocal Score for Mahler's 2
*Music will be emailed to singers upon registration.
Event Category