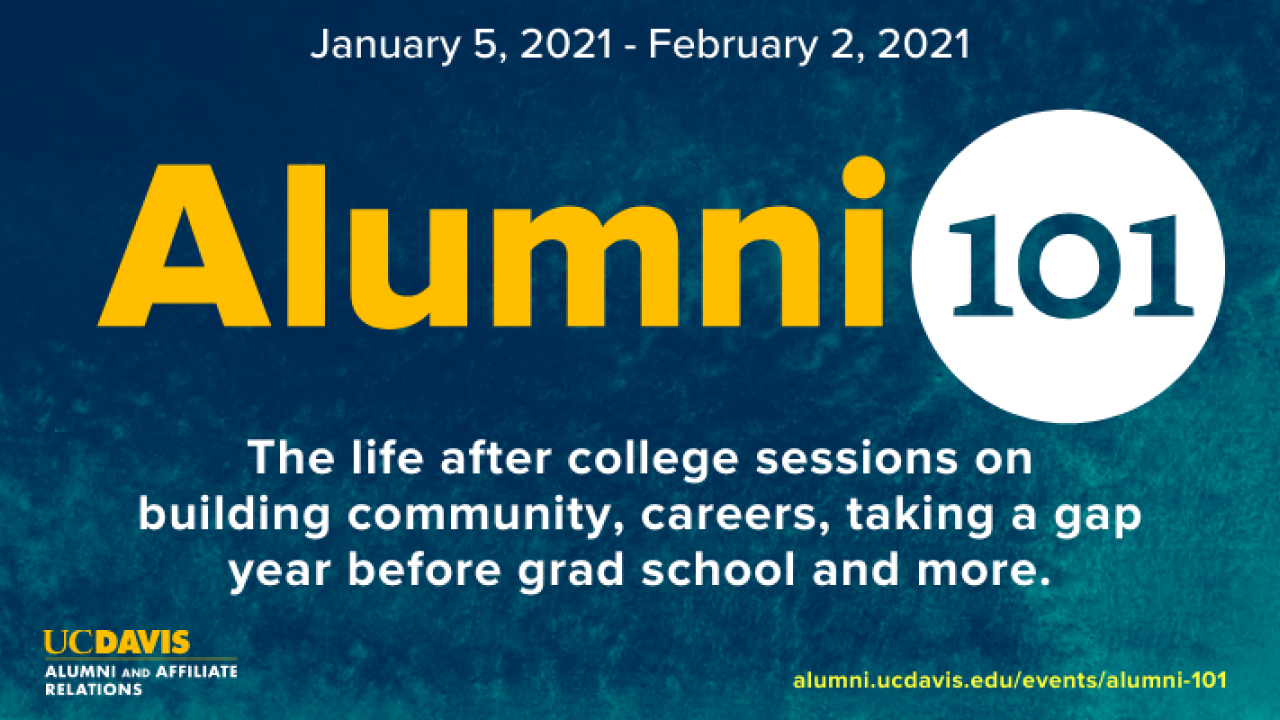 Graduating? We got you! Join your Cal Aggie Alumni Association for discussions on life after college. We'll be focusing each session on the things we wish we knew about post-grad life: making friends, job searching, financial literacy, and taking a gap year before going to graduate school. Check out the details and recordings about each session below.
Making Friends and Building Community
Overview: Once college is over, it can be difficult to meet new people when you aren't going to class, living on campus, or attending club events. Learn from a panel of recent alumni on how to build your community. Whether you are moving back home, staying around Davis, or moving somewhere new, our panelists will be sharing their experiences.
Panelists:
Alice Argueta ('19)
Nur Sattar ('17)
Kiana Okhovat ('16)
Date: Tuesday, January 5
Time: 3:30pm-4:30pm Pacific
Register for Making Friends and Building Community
Leveraging Alumni and LinkedIn in your Job Search
Overview: Networking can help you find the job of your dreams. Join us for tips to leverage your personal network and the UC Davis Alumni network in your job search. We will also go over ways you can effectively use LinkedIn.
Presenter: Andrea Hanson, Associate Director, Internship and Career Center
Date: Wednesday, January 13
Time: 4pm-5pm Pacific
Register for Leveraging Alumni and LinkedIn in you Job Search 
Post-Grad Personal Finance 
Overview: You're graduating which means your financial situation is also changing: loans may be coming due and you will have to budget for your post grad lifestyle. Join our conversation where we'll talk about credit (how to use it wisely), tools to develop a positive credit history and score, how to create and manage your own budget, ways to track spending, and options for student loan repayment.
Presenter: USE Credit Union 
Date: Monday January 25
Time: 4pm - 5pm Pacific
Register for Post-Grad Personal Finance
Taking a Gap Year Before Grad School
Overview: Are you thinking about graduate or law school down the road? Join us for an interactive workshop on the gap year(s)! Learn how to maximize opportunities during the time off between graduation and starting grad school.
Presenter:
Cloe Le Gall-Scoville, Ph.D,
Coordinator Pre-Graduate and Law Advising
Transitional and Enrichment Programs and Services
Office of Educational Opportunity and Enrichment Services
Cloe Le Gall-Scoville is the staff coordinator of Pre-Graduate/Law Advising, part of Transitional and Enrichment Programs and Services. She earned a B.A in English and History at UC Irvine, a Master's in Literature at UC Santa Cruz (after two gap years), and a Ph.D in Comparative Literature at UC Davis. She is passionate about the possibilities that advanced education has to offer and helping students achieve their graduate and law school goals.
Date: Tuesday, February 2
Time: 4:00pm-5:00pm Pacific
Register for Taking a Gap Year
Tags